Lego Bricks Make Prosthetic Arms Fun for Kids
Technology is becoming more and more advanced every day. In the case of prosthetic technology, a new innovation is being developed that will provide prosthetic arms to kids, while spurring their creativity at the same time. This prosthesis, known as Iko, can be modified using Lego bricks in order to turn the replacement limb into a fun opportunity.
Turning "Necessary" Into "Fun"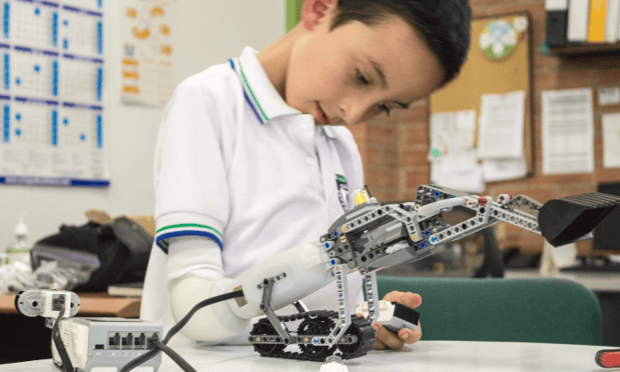 Designer Carlos Arturo Torres first thought of the idea for a Lego-compatible prosthetic during an internship with Lego's Future Lab. He noticed that the famous building bricks had huge potential for sparking creativity and being useful at the same time, so he began to develop his idea for a prosthetic arm that could put the "fun" in "functional." He also consulted various psychologists, who explained the stigma that often surrounds limb-lacking children. As a result of their disabilities, they become isolated from other children, which damages their self-esteem during crucial growth years. With this research in mind, Torres decided to fight this problem by creating his Lego prosthesis for children between the ages of three and twelve.
So he got to work. The prototype is a plastic arm which uses a Lego Mindstorms electronic processing unit. Myoelectric sensors move the prosthesis by detecting and responding to muscle movement in the limb the prosthesis is attached to. The "default" end of the replacement arm is a standard plastic claw-styled gripper hand, but this hand can be swapped out with kids' Lego creations using a snap-and-lock system. Lego hand replacements could be fancy Lego claws, Lego models, Lego laser guns, and much more. Located along the rest of the arm are areas on which additional Lego pieces can be added for fun, along with a place to plug in the arm for charging. To make everything even simpler, the rest of the arm's parts could be 3D printed, conceivably making the manufacturing process of the prosthetic cheaper and easier.
Torres hopes to improve his prototype even further in the near future. He wants to help the children in need of his creation feel special instead of excluded due to disability. Such a cool-looking replacement arm, he thinks, might make other kids say, "I want one of those." It may foster better understanding and acceptance of kids with missing limbs within social circles. The Iko arm could make these kids feel like superheroes, building self-esteem and turning their disabilities into something they can more easily live with.
This Is Just the Beginning
Torres hopes that his invention will help kids with missing or amputated limbs get on better with their lots in life. He also hopes that it will encourage other engineers to do more research into prosthesis development. He thinks that there's a lot of room for thinking outside the box with today's technology.
If the Iko arm gains traction and popularity, it could even become more than just a Lego project. Other toy companies like Mattel and Nintendo could get involved, and the prosthesis could eventually be modified to work with attachments from such companies. But for now, Iko uses Lego bricks, which is as good a place as any to start, since Lego is such a good imagination toy with limitless building and imagination possibilities. Additionally, if the Iko arm takes off, it would be the first prosthesis to work successfully with Lego.
Torres hopes that a completed version of his prosthetic arm will be available between the end of next year and mid-2017.