AMC's Preacher: Is It What You're Looking For?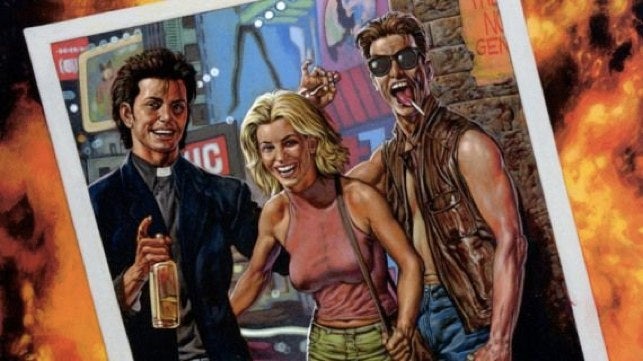 This is a SPOILER FREE of the first episode of AMC's Preacher. An encore presentation will air on Sunday, May 29th at 9pm. New episodes will resume the following Sunday.
Watching your favorite piece of entertainment cross mediums is a mixed bag. On one hand, you get to see characters you love come to life. On the other, it's never going to live up to your imagination. Books into movies is difficult enough. However, this cross over allows a certain amount of leeway. Yes, this character was described a certain way, but you can't prove the movie creators wrong. Watching a comic book become a television show is another trial altogether. You don't just have a mental picture of cameras, but a definite one. You have a whole other level of tone and imagery over books. This is what was running through my mind as I sat down to watch the premier of Preacher.
My roommate and I have both been reading (and rereading) the series since middle school. We've grown up with Jesse and Cass. We've learned how to write through Garth Ennis. To an embarrassing extent, Preacher has played a tremendous role in our lives. So obviously, we were both stressed. As the Fear the Walking Dead's credits rolled, he turned to me and said, with a desperate sincerity, "God I hope this doesn't suck." That hope set the tone for the evening.
Before I Get Nitpicky…
Let me be clear: Preacher had a fantastic pilot. The talent is great. The cinematography is inspired. The images are concise and meaningful. If I were any other man with any other history with the series, this would be a short, praise-filled review. Let's go ahead and talk about the good. Dominic Cooper plays Jesse, the preacher. Visually, Cooper is by far the most aptly cast. He has the hardened good looks of the Custer family, and his portrayal was sensational. About two thirds of the way through, you get the single most Preacher-esque scene from Cooper, and he truly did a great job keeping the purists engaged. Joe Gilgun plays Cassidy, the Irish vampire sidekick. His first appearance was a bit of a head scratcher. It's a fast moving scene, and and I never really got a sense of who he was (other than the accent). He redeems himself shortly after, and does a fantastic job. Ruth Negga plays Tulip. Despite the being the most deviant visually of the cast, Negga stole the show. She will most likely continue to do so. Her casting is likely the best choice the team has made, all aspects included.
There is plenty more of the good to talk about. Again, the pilot is fantastic. Nonetheless, it is not the direct port of the comic most fans were looking for. Even edited for content, there are definitely some major liberties taken. Without spoiling anything, I can say that it is likely going to take a few episodes before we get to the source material. They of course need to stretch the series out. I'm not complaining that they added story line. What they did add was beautiful. But the trudge from the start of the new story to the one we know and love is an uphill one. I kept waiting for it to kick in, and I was disappointed. Another change made, and this is admittedly pretentious of me, is the tone. Preacher as a comic deals with dark things. It goes intense places. This show gets there too hard and too fast. And it does so without the gritty, dirty vibe that I associate with the icon of my childhood. The tone is also thrown off by the fight sequences. They are without a doubt badass. If you're a fan of absurd melee, you're in luck. Unfortunately, this detracts from the grittiness. It detracts from the unexplainable realistic quality of a fantasy comic. It detracts from Cassidy as a too-cool waistoid, and from Jesse as a stoic figure. Despite being well choreographed, it is clear that this went too far in attempts to satiate the action-movie element of the audience. But again, they are undeniably well-done and will have your eyes glued to the screen.
Overall, I cannot stress enough that this was a fantastic first episode. I would recommend that any fan (or potential fan) watch the encore presentation this Sunday. Gear up for a fantastic season of television. Just try and fight that voice telling you "this is wrong," and enjoy the show you've dissevered for years. If you can hop that hurdle, this can be a meaningful addition to the Preacher legacy.