What's Coming and Going From Netflix November 2018
Picture this: a serene dining room. An ornate table covered with arrays of delicious food. Wine sits idly by in the background, red and lush. Gourds and flower arrangements sit amongst the food. Ah, the peace of a family Thanksgiving. All is calm, until Uncle Jerry walks in and starts making excuses for why voting for Trump was the right choice and that he's enjoying the tax cuts. Ugh! What decade is it, you may ask yourself, as you sneak off to the back TV room. Escape the awkward family conversations this holiday season with Netflix.
NEW ARRIVALS
'She-Ra and The Princesses of Power', available November 16
Noelle Stevenson, creator of acclaimed comic series Lumberjanes, helms Netflix original and 1980s reboot, She-Ra. Nerds across the globe will be tuning in to see what the ladies are up to this time. The visuals alone are enough to draw an audience for this beloved character and universe. Comics titan J. Michael Straczynski co-wrote the original series so one can only imagine Stevenson's vision will be a revivified and imaginative take on the lore of old. Available November 16.
'Mystery Science Theater 3000: The Gauntlet' available November 22
Mystery Science Theater 3000 is an icon of classic cult. A couple of robots and a dude sit around watching old sci-fi flicks, skewering and mocking them while we all have a good laugh. Jonah Ray is delightful in the series and 'The Gauntlet' promises six new films for viewers to commentate right along with our excellent hosts. Season 12 premieres on Thanksgiving, November 22, which also happens to be the show's 30th anniversary. Grab some mashed taters and prepare for B-movie glory.
'John Leguizamo's Latin History for Morons' available November 5
John Leguizamo aims to fight ignorance in his new special. With the goal of covering overlooked Latino history, the audience is sure to get his patented sense of humor and wit.  The play and performance received Tony Award Nominations for 2018, an incredible honor and an added selling point. Ignorance is not bliss. Learn a thing or two, and you might get a couple laughs while you're at it. Streams November 5.
LIGHTNING ROUND: HONORABLE MENTIONS
'The Christmas Chronicles' starring Kurt Russell streams November 22.
'House of Cards: Season 6' starring Robin Wright streams November 6.
'The Ballad of Buster Scruggs' from the Coen Brothers, which looks really interesting, streams November 16.
November's Departures
'Jurassic Park' and 'Jurassic Park III' leave November 1
Spielberg franchises are always welcome. While the franchise's first iteration is novel and exciting, 'III' picks up with its own pace, offering a darker tone but the same family drama you've come to expect. Not too scary for kids, but just suspenseful enough for adults.  Jurassic Park offers the perfect source of entertainment. Watch both movies before they go extinct on November 1.
'Paddington' trots off streaming November 16
A famous children's character comes to life in Paddington. Being that it is certified fresh on Rotten Tomatoes with a 98%, this film is no joke. It's a rare and amazing movie that honors the source material and offers an invigorating experience. The story of a Peruvian bear trying to find his home in London is compelling, funny, and an absolute gem of a film.  It's going to be available for a little longer, so make sure to check it out before November 16. Damn, that bear is so damn cuddly!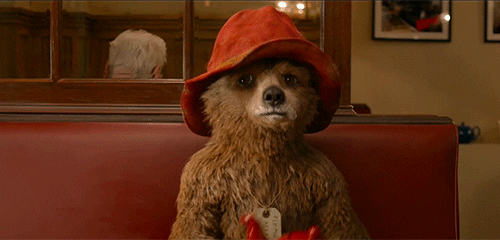 Until next time…
That's all for our monthly Netflix round-up. We hope you find it informative in planning out your Thanksgiving vacation/weekend/etc. but, please, don't forget to spend some quality time with the family. In such trying times, we need to appreciate the people in our lives who love and care for us, and sometimes political arguments can make it difficult. Whenever you need a reprieve, remember you can always sit down, tune out, and tune in to the wonderful world of TV. Ah, the glory of Netflix.
In closing, have a wonderful November and try not to overextend your stomachs on Thanksgiving! All at Geek Insider are eternally grateful for your continued patronage.  Salutations!
Arriving in November
Full list below. Netflix originals linked to youtube trailers or watch pages.
November 1
Bram Stoker's Dracula
Bring It On: In It to Win It

Cape Fear

Children of Men

Close Encounters of the Third Kind

Cloverfield

Deuce Bigalow: European Gigolo

Doctor Strange

Fair Game – Director's Cut

From Dusk Till Dawn

Good Will Hunting

Jet Li's Fearless

Julie & Julia

Katt Williams: The Pimp Chronicles: Pt. 1

National Lampoon's Animal House

Next Avengers: Heroes of Tomorrow

Planet Hulk

Scary Movie 2

Scary Movie 3

Sex and the City: The Movie

Sixteen Candles

Stink!

The English Patient

The Untold Tales of Armistead Maupin
The Water Horse: Legend of the Deep

Transcendence

Vaya

November 2
November 3
Hoodwinked Too! Hood vs. Evil
November 4
November 5
November 7
November 8
November 9
November 12
November 13
November 15
November 16
November 18
November 19
November 20
November 21
November 22
November 23
To Build or Not to Build: Season 2

November 25
My Little Pony Friendship is Magic: Best Gift Ever
November 27
November 29
November 30
Last Call
Leaving November 1
Amelie

Crossfire

Cruel Intentions

Cruel Intentions 2

Cruel Intentions 3

Hellboy II: The Golden Army

Jurassic Park

Jurassic Park III

Oculus

Phenomenon

Run to me

Smokin' Aces 2: Assassins' Ball

Steel Magnolias

The Invasion

The Land Before Time

The Land Before Time II: The Great Valley Adventure

The Land Before Time III: The Time of the Great Giving

The Lazarus Effect

The Lost World: Jurassic Park

The Reader

Up in the Air

Leaving November 12
Leaving November 16
Leaving November 17
Undercover Boss: Seasons 1-5