The world's leading gaming chair brand, AndaSeat, partners with Disney to launch its Black Widow Gaming Chairs
LONDON, 3 AUGUST 2021, Professional seating specialists, AndaSeat, who previously manufactured race car seats and partnered with prestigious brands in the sports and Esports field, is pleased to announce the pre-order availability of the latest chairs in its Disney Marvel licensed gaming chair range, the Black Widow. Celebrating the launch of the latest Marvel Avenger Series movie 'Black Widow' in July, the Marvel gaming chairs maintain the premium design and build quality that AndaSeat has become known for. The AndaSeat Black Widow Marvel Gaming Chairs are available on pre-order for $449.99 on the AndaSeat website with delivery expected in October.
To celebrate the launch, AndaSeat has provided a 50 percent discount coupon "MARVEL" for the first ten customers who order chairs in the Marvel range on its UK, US and Australian websites. Additionally, the company is also holding a competition on the Black Widow page on its website where someone is in with a chance of winning a Marvel licensed chair or discounts, simply by voting for their favourite colour here.
The Black Widow Black and White Editions are based on AndaSeat's hugely popular Dark Demon Design whilst including stylish nods to the character played by Scarlett Johansson. Both chairs feature the Black Widow logo on the head cushion with the Marvel logo on the Back Support cushion and on the chair itself. Whether it is the classy black design or the striking all white edition, there are options sure to appeal to all Marvel fans of the Avengers series.
Both chairs are padded with 60Kg/M3 super high-density integrated foam padding with no cuts. The foam can withstand over 200,000 times press and rebound for true ergonomic support and comfort, offering many years of use without losing shape.
AndaSeat has invested in human engineering for over 10 years and created the AD+ design. AD+ offers the all-important support for the spine during long gaming sessions, providing good back support to help maintain posture, even when sitting for long periods of time. Both chairs include an ergonomically designed large neck pillow and medium lumbar support cushion which can be adjusted to support both the lumbar and cervical spines simultaneously, allowing gamers to settle back into the chair with ease.
The Marvel Black Widow edition chairs feature the AD+ Reclining Back Z Support multi-functional tilt mechanism for heavy duty usage, which also gives users full control over the suspension. The adjustable tilt from 90 to 160 degrees can be adapted for gaming, reading, watching movies or even sleeping! The system also increases and decreases tension by matching the body weight of the user for effortless, secure and sturdy rocking, without putting fatigue on muscles.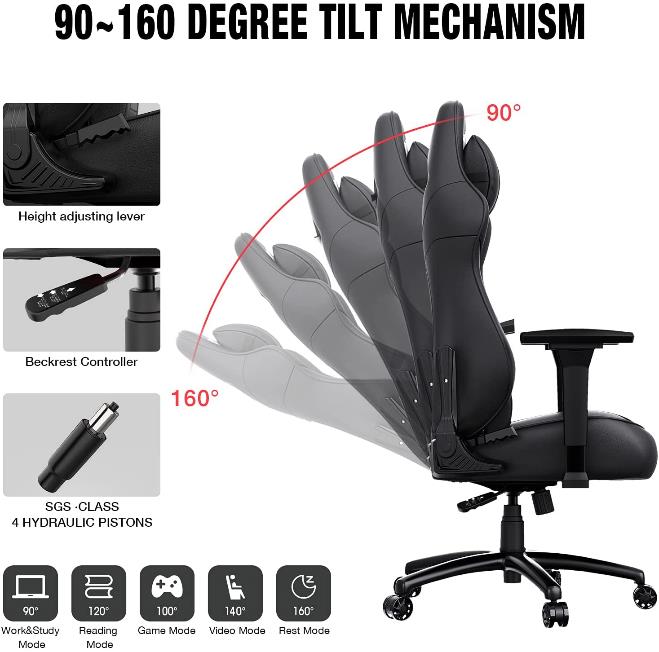 The backrest, complete with Black Widow logo, is entirely independent and adjustable, which also lessens the strain on the neck and back and the 4D PU covered customisable armrest allows for a wide variety in terms of width and height adjustments to better support the wrists and arms with the ability to move front and back, up and down, left/right and pan
The Black Widow chairs are manufactured using hard wearing foam and scratch and stain resistant AD+ Plus PVC leather as used in racing car seats with no smell and no harmful substances. A precision manufactured 22mm diameter enhanced steel frame with lifetime warranty together with a premium grade aluminium base provides not only impeccable comfort and stability but also strength for the ultimate sitting experience.
Safety is always the priority for furniture products and in order to provide the perfect comfort standard, each AndaSeat gaming chair is equipped with SGS certificated Class 4 hydraulic piston and explosion-proof gas spring of international standards. This is more resistant, more stable and the best in its class in terms of consistency, stability and safety. The wheels on both chairs are 60mm wide with durable PU rubber to provide silent movement and further enhance stability, ensuring smooth movement in all directions without damaging floor surfaces.
The AndaSeat Black Widow Marvel Gaming Chairs are available on pre-order for $449.99 on the AndaSeat website with delivery expected in October.
High resolution imagery is available here (You may need to copy this link into your browser)
User size and height capability:
AndaSeat Black Widow maximum height load – 200cm, maximum weight load 130KG (Rocking), 170KG (Static)
Affiliate Scheme
AndaSeat also have an affiliate partnership with Sharesale [merchant ID: 99919] where they can offer 10 percent commission on sales from reviews/features. More information is available here
Andaseat is recruiting influencers. Content creators can apply for a free gaming chair here
About AndaSeat
Founded in 2007 and with a history of manufacturing racing car seats for BMW and Mercedes Benz, AndaSeat is the exclusive chair sponsor of China national football team and national volleyball team, making AndaSeat an indispensable brand in sport.
As esports has been a growing industry, AndaSeat shifted towards gaming chairs, offering players and video games industry professionals a healthy and comfortable playing experience thanks to their know-how with sports seats. AndaSeat has now become the worlds leading gaming chair supplier.
AndaSeat's range of products are deemed and recognized by professionals of the video game industry, and they the chair of choice for many esports team such as Fnatic, LGD, Navi Esports, Victorious Gaming, Victory Five, EXCEL, Chief, Buriram United Esport, WLGaming Esports and OMG.
For more info about AndaSeat please visit www.andaseat.com