GameSir Announces Availability of its F8 Snowgon Mobile Cooling Grip
LONDON 4th August 2021: Following its launch on Indiegogo, Gamesir, a leading provider of innovative, high quality gaming peripherals is pleased to announce the immediate availability of the GameSir F8 Snowgon Mobile cooling grip on its website and Amazon.com for $39.99 USD/ £28.99. Amazon UK is expected to follow in the coming months.
With interest in mobile gaming increasing and gamers using their devices for longer periods of time, extra pressure is put on the smartphone's processor, screen and battery with the possibility of overheating occurring.
The GameSir F8 Pro Snowgon solves this problem whilst also providing a cosy handgrip. With its advanced semiconductor refrigeration technology, the F8 Pro Snowgon cools the smartphone down instantly once connected, ensuring peace of mind during long gaming sessions.
The F8 Pro Snowgon is also a gaming handgrip that ergonomically fits to provide the user with a comfortable experience while playing games. It can be adjusted from both the left and right side and supports any android or apple mobile device within a length of 173mm, without limitation. Meanwhile, GameSir has also rolled out a range of flexible bundle accessories for F8 Pro Snowgon, such as detachable joysticks, finger sleeves and trigger buttons enabling a fully-armed gaming experience.
Additionally, the GameSir F8 Pro Snowgon includes a foldable phone holder on the back, ideal for watching movies, boxsets or YouTube videos. With unique RGB LED lights, the F8 Snowgon also looks the part and creates a next-level gaming experience.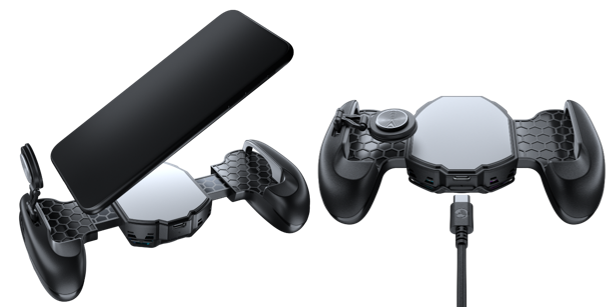 The GameSir F8 pro Snowgon Mobile cooling grip is available for $39.99 USD/£28.99 on the GameSir website and Amazon.com for $39.99 USD/ £28.99. Amazon UK is expected to follow in the coming months.
For more information, visit the F8 Snowgon page on the GameSir website
Tech Specs:
Working Platform: Android & iOS
Connection: Wired Type-C
Power Input: 5V/2A
Battery: No
Package Size: 176*108*82mm
Net Weight: 145g
About GameSir:
Founded in 2010, GameSir is one of the world's leading providers of high-performance gaming peripherals, providing high-tech gaming hardware and excellent gaming experience for every gamer. In the name of "Gaming is Winning", GameSir know exactly what each gamer really crave – the accurate control and enhanced gaming experience. Therefore, they tested every potential solution to meet the needs of gamers, which is the GameSir mission.
For more information, visit www.gamesir.hk