Proscenic launches the T21 Smart Air Fryer
Smart home appliance manufacturer Proscenic, with a history of making components for Panasonic, Hitachi, Zojirushi, and Philips, today announces the availability of its new T21 Smart Air Fryer. The T21 is available to purchase now from Amazon.com for just $89 using the Amazon $40 discount coupon. RRP $129.
The T21 Smart Air Fryer is Wi-Fi enabled, with numerous smart controls that contribute to easy operation and convenient cooking. Users are able to control and schedule preparation using the free ProscenicHome app, or connect the device to a virtual assistant. The app (available to download for both iOS and Android smartphone users) can be used as a remote control, with options to start, stop and adjust the machine, without needing to be waiting around in the kitchen. Compatible with both Alexa and Google Home, the fryer can be used via voice control – users can effortlessly schedule cooking times, select menus, monitor progress and customise recipes hands free.
The air fryer has been engineered with 3 combination functions (Schedule, Menu and Keep Warm) which can be used both individually and simultaneously and set up in advance for later on in the day. Additionally, the T21 is equipped with rapid hot air technology and 8 cooking presets, enabling users to fry, bake, grill and roast as needed, with no oil required for healthier cooking using a single multi-functional device. The fryer also features a unique pre-heat setting, which heats ingredients for 3-5 minutes before cooking commences, ultimately making the food look more aesthetically pleasing, with a crisper finish and texture – a feature that competitor models often lack.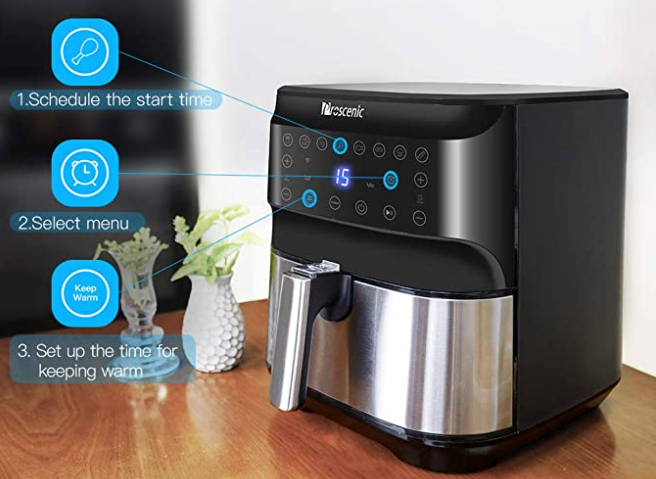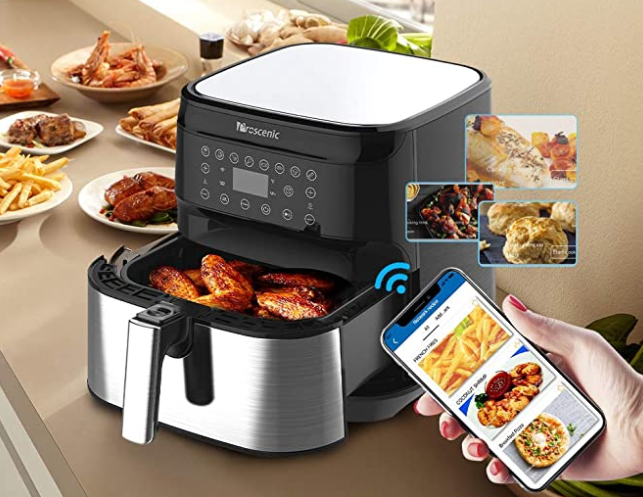 The T21 Smart Air Fryer also boasts a modern and sleek design, with a sensitive LED touch panel that is incredibly convenient compared with existing air fryers using rotary functions and pressure switches, as functions can be selected with just one touch. The air fryer boasts an impressive 5.5 litre capacity, ideally catering for families with the ability to cook up to 7 portions at any one time, whilst also having a compact structure that can easily be stored inside kitchen cupboards if necessary. The aluminium food basket is fully detachable and dishwasher safe, making cleaning a breeze! Dual layers of Teflon coating also ensure that the food basket is less sticky, leaving behind less residue and waste.
With an energy class rating of A+++, the T21 is also incredibly energy efficient in comparison to its competitors. The air fryer has an impressively quiet noise level of just 60 dB and is equipped with an auto shut-off feature, ensuring that less energy is consumed unnecessarily. The air fryer will automatically switch off once the cooking completes, or if the basket is removed during the cooking process – this feature also successfully prevents the machine from overheating, as well as the food from overcooking.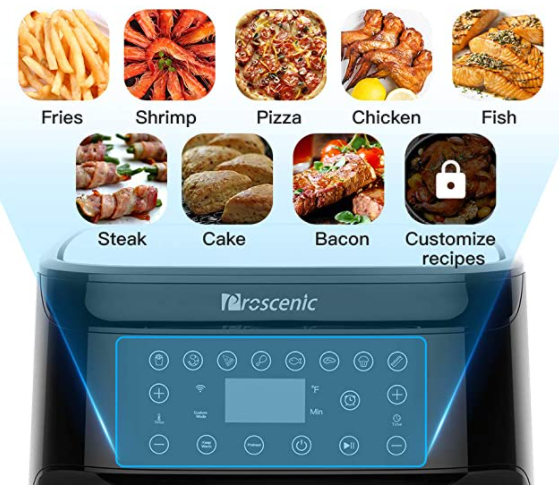 Ideal for families, the Proscenic T21 Smart Air Fryer is the perfect appliance for preparing delicious, healthy home-cooked meals. With zero oil required, food cooked using the T21 contains 85% less fat than food prepared using a traditional deep fat fryer, with the same flavoursome result. The ProscenicHome app provides users with a fantastic range of customisable recipes, perfect for those looking for inspiration and beginners in the kitchen!
Product Features:
Schedule, Menu, Keep Warm
Pre-Heat
Auto Shut-off
ProscenicHome App Control
LED Touch Control Screen
Alexa & Google Home Voice Control Enabled
Wi-Fi Enabled
Online Recipes
Non-Stick
Dishwasher Safe & Removable Basket
8 Menu Presets
5.5L Capacity
Programmable (Scheduled Cooking)
Product Specifications:
Colour: Black
Product Dimensions: 31.4 x 31.6 x 32.6 cm
Product Weight: 5.9 kg
Capacity: 5.5 litres
Power/Wattage: 1700 watts
Energy Efficiency Class: A+++
Noise Level: 60 dB
High res images of the Proscenic T21 Smart Air Fryer are available here.
The T21 is available to purchase now from Amazon.com for just $89 using the Amazon $40 discount coupon. RRP $129.
About Proscenic:
Combined with "prosperous" and "scenic", PROSCENIC is symbolizing the future of intelligent life. With smart home appliances, you can enjoy the time at home. Founded in 1998, PROSCENIC team is a comprehensive home appliance manufacturer integrating R&D, manufacturing, and sales. In the beginning, PROSCENIC mainly serves Japanese home appliance brands, such as Panasonic, Hitachi, Zojirushi, and Philips (focuses on OEM/ODM integration business of smart home appliances). Now, PROSCENIC has invested to develop more than 20 products including robot vacuum cleaner, cordless vacuum cleaner, air fryer, humidifier, water flosser, and so on.
Deeply immersed in the home cleaning product, PROSCENIC has built its brand reputation in the field of smart home products. In 2013, the brand has been rapidly expanded to Japan, Europe. From 2016 to 2019, the company established branches in Japan, Germany, France, to build a solid foundation for the brand's localized marketing and after-sales service. Products are available in more than 60 countries and districts around the world, which provide intelligent cleaning service for thousands of families and gain the approval of them.
Visit the Proscenic website for more information