'The Office' Inspired Gizmos to Make Your Workday Awesome
Foremost, all hail Dwight Shrute– beloved office misfit, Battlestar Galactica and beet loyalist, and martial artist. His, along with his coworker Jim Halpert's office antics made The Office entertaining to watch. We also can't disregard that super dork boss, Michael Scott, added to the entertainment, making the office look like a place that seemed not so terrible to work in.
In the modern work space, many have handed their lives over to the 9 to 5 humdrum of life behind a desk. It can get tedious, stressful, and even boring, so it should come to no surprise that eventually a common symptom of working in an office is indefinite malaise. You seem to feel discomfort and unhappy, maybe even sick, and you can't seem to figure out why. You are not alone. Here are a few things to bring with you the next time you find yourself dragging your feet to work:
1. An Original Ostrich Pillow by kawamura-ganjavian
Also known as the "pillow hat", this hideous fabric like diaper is essential when you're looking to clock in a few minutes of nap time in between work projects. Everyone can use a recharge at work. Its functionality as a portable sleep aide and humorous sight is unquestionably worth the $100 it costs. Also, unlike Kelly, you won't have to wait for your birthday to nap in the office.
2. Cubicle Warfare: 101 Office Traps and Pranks by John Austin

This highly rated book is available for $10.99 on Kindle and about $12 or less for a paperback copy. You know what this is for.
3. Office Weapons: Catapults, Darts, Shooters, Tripwires, and Other Do-It-Yourself Projects to Fortify Your Cubicle by Instructable.com
You need this book because of what was #2 on this list. When you start office warfare, be prepared for some type of retaliation. Does a boobytrap made of flying pushpins sound extreme? Maybe! This book is available for $10 on Kindle and about $14 or less for a paperback copy. You can also access the Instructables.com website for some immediate and clever office warfare ideas.
4. A Frenemies Set of Dwight and Jim bobble Heads
These bobble heads are available on Amazon or Ebay but can be a bit pricey at over $50! For this item you'll have to do a bit of shopping to get the best price possible, but who wouldn't want to look at it everyday? They come in every character if you feel like you're more rooted to office tramp, Meredith. Let's take the Valentine's Day cue from the pure genius known as Angela, who gave Dwight a bobble head of himself as a Valentine's Day gift.
5. The 2015 Someecards: Office Wall Calendar by TF Publishing
At just over $5 to $20 depending on where you purchase it, this cheeky and clever calendar will make any soulless office veteran crack a smile. Take this calendar phrase for example, "When work feels overwhelming, remember that you're going to die." Comfort level: immediate.
6. Carpet Skates by Fun Slides
For $20 you can attach these sliders onto your shoes to skate away from your boss or your coworkers. You can also use them if you just need to shave off some time on the way to the copier or are engaged in an office Olympics against a proven champion, e.g Phyllis. If that's not enough reason to get them you can use them to moonwalk your way into The Office Pam's heart.
7. Ninja Star Push Pins by Doodad Brigade 
This pins are essential for when you want it to look like a ninja has just thrown ninja stars into your cubicle or your coworker's.  They cost about $13 for a pack of 3 but they're a great way to get a message across like, "I missed on purpose" or "You're next." These push pins are cute, clever, and useful.
8. An Absurd Coffee Mug with Your Face on It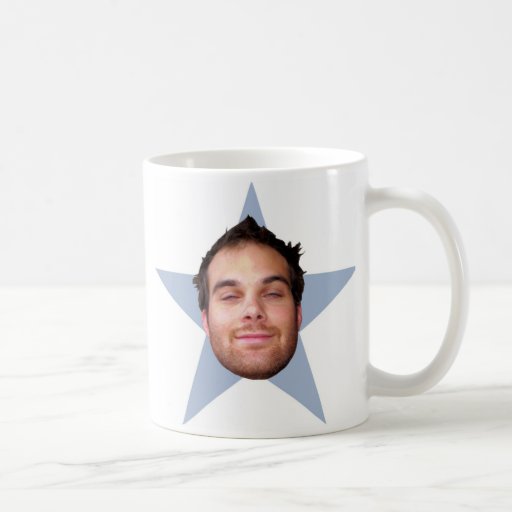 Because now your face communicates dominance and ownership to everyone else who sees it on something. You can order one of these fun mugs on Zazzle for just $17.95 without having to attend a Kelly Kapoor party!  
9. Insta-Sky Office Diffuser by Skyscapes
Feeling trapped in the office? Simply place this $60 plastic panel over your fluorescent light so that you can look up at the ceiling and pretend you're outside, not trapped in an office or another ridiculous work meeting. You can always get a book of puzzles to distract you; it always worked for Stanley.
10. Anti-Theft Lunch Bags via Perpetualkid.com
These will discourage the office gobbler or "Kevin" from eating your lunch out of the staff fridge. This will save you the 15 minutes of having to wait around the corner or in the shadows to yell, "oh no you don't!" The bags sell for $4.99 for a pack of 20.
11. A Ukelele
For office jam sessions with the Andys, Darryls, and Kevins of the office. Music is a surefire way to de-stress and disconnect from work for a short break. This small light-weight instrument makes it easier and more realistic to store in a cubicle unlike what you witnessed on the show. With only 4 strings, it makes it easier to learn to play, too. There are tutorials all over YouTube and Comparaboo just rated the super affordable Kala KA-15S Mahogany Soprano Ukulele the top choice for 2015 based on over 420 reviews. This ukelele is only $54.99 on Amazon!
12. Invisible Ultra Mini in-ear Bluetooth V3.0 Headphones by CatBee
These $23 amazing minis will surely help if you're in a "Toby situation," in which you find yourself needing to discreetly muffle the voices of other coworkers around you. If all else fails, stash chocolate in your desk for those stressful moments and buy a novelty clock you don't mind looking at every minute of the day because disappearing for 3 months like Andy will get you fired! Just remember, the day ends!