The Future of Time: The Ritot Watch
Two Indiegogo fund seekers devised 'Ritot' projection watch, which means they either really loved the film 'In Time' or else this is one of the biggest coincidences known to humankind. However, there watch isn't a biological clock counting down your days of life; rather, it simply tells you the time.
The Ritot watch, also known as the World's First Projection Watch, operates by using a miniature projector in the watch hand to reveal time on your actual hand. All you need to do is push a button on the band (preferably not a big red one) and voila! Your hand illuminates with the time, now available in 20 different colors you can customize using a base station. The base station comes with the watch and, in addition to letting you change the color, allows you to choose the display mode (12 or 24 hours).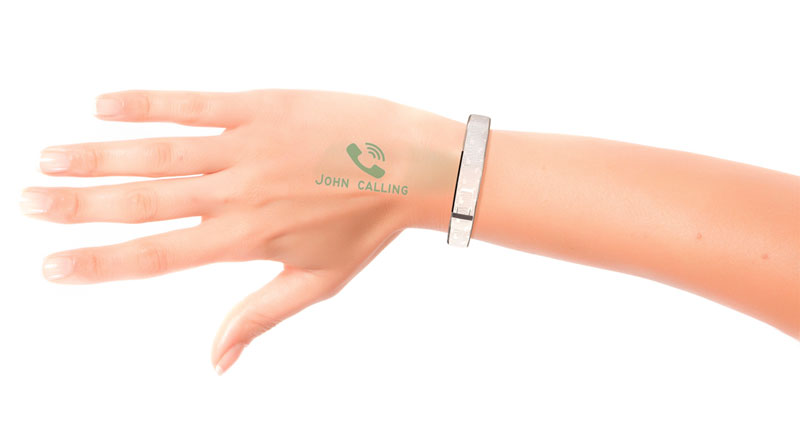 Kind of like that picture, although I wonder how exactly John plans to leave a voicemail.
Extra Features
The watch is planned to have several other features besides just telling time. According to Indiegogo's website, the Ritot Watch also functions basically as a phone, keeping track of emails, texts, Facebook notifications, Tweets, weather alerts, and a silent vibrating alarm and timer (how exactly does that work? Does your hand just start shaking?) These stay on your hand for 10 seconds by default before disappearing, though you can alter that at will. You can also dismiss these notifications by shaking your wrist. And as an added bonus, yes, the watch also takes us lefties into consideration (lefties of the world unite!)
By the way, yes, Indiegogo says the Ritot watch is perfectly safe and doesn't harm your hands or skin.
There are two types of watches available: the aluminum-and-leather bracelet variety available in white, black, completely black, brown-gold, and black gold; and the plastic/rubber sport variety, available in black, white, red, green, blue, and yellow.
Pledging
This waterproof watch (so you can still sing in the shower without fear) can be yours in exchange for a $120 pledge, which saves $40 from the future retail price, and comes with a base charger.
A $200 pledge gets you two Ritot watch sets. $285 gets you three, $450 gets you five, and so on all the way up to $3,400 which gets you the Ritot Reseller, or 50 sets of watches, you know, in case your special talent is losing things.
Their goal was to raise $50,000. With a month left to go (the fundraiser ends on the 21st of August), they have raised over $430,000, exceeding their original goal by over 800%.
To develop something as incredible as this – well, someone must have had a lot of time on their hands.