Amazon's New "Kindle Unlimited" – Read One, Read All?
In an effort to attract more users and regular customers, online retail giant Amazon announced on Friday that they have now successfully launched their latest e-book subscription service. Currently the largest e-commerce site in the U.S., Amazon has christened this new product 'Kindle Unlimited' with the promise of providing its subscribers an unlimited access to thousands of electronic as well as audio books for a price of $9.99 per month. According to the e-vendor, if subscribed, users will be able to read as much as they desire from the vast library of Kindle titles, which includes popular series such as Harry Potter and The Hunger Games, along with about 600, 000 additional volumes to choose from.
Through partnership with Audible and the Kindle app, Whispersync to Voice, Kindle Unlimited is also able to give its subscribers an endless supply of audiobooks so they can seemlessly switch from reading their book on the subway to listening to it at the beach. If that wasn't enough, in order to entice consumers to this seemingly irresistible deal, Amazon is currently offering a free 30-day trial period for Kindle Unlimited, too. All of this, of course, not just for Kindle devices or iOS products but for anyone who has a Kindle app installed on their phones or tablets. I'd almost say Amazon is trying too hard.
Amazon might pretend that this new launch is catering to the 72 million Americans who read e-books in 2013, but it is no secret that it has been steadily (greedily?) expanding its outreach – with smartphones, delivery drones, video streaming boxes, etc. – to gain greater power over the online business market, especially in the arena of book selling.
As anyone in the writing or publishing industry will know, the e-vendor's book distribution strategies have been met with much criticism and many are very unhappy over how Amazon has been pressuring publishers to lower the prices of their ebooks and to go along with it's print-on-demand technology. To me then, at least, it looks like this somewhat unexpected launch of Kindle Unlimited is just another well-designed, well-strategized tactic devised to retain Amazon's reign over the world of book distributing.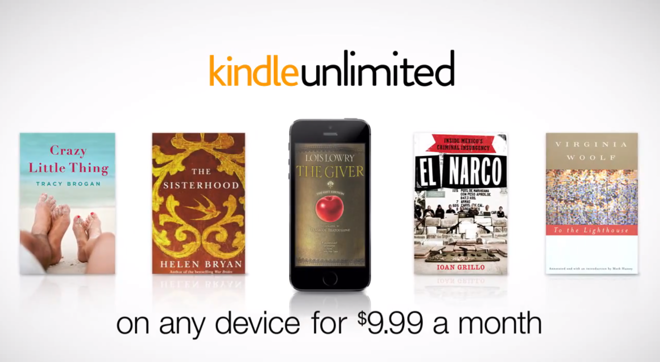 Why do I say so? Because conveniently of course, Amazon hasn't revealed in its widespread advertisement that major publishers like Hachette, Simon and Schuster, and HarperCollins will not be part of the Kindle Unlimited service. How are subscribers going to feel, after wasting ten bucks on the "unlimited" service, when they realize that some of their most anxiously awaited books are not accessible to them at all? Disappointed, perhaps. Definitely frustrated. Maybe even duped.
Amazon is undoubtedly going to rely on its fan following and the stats and knowledge derived from AmazonPrime's success to make Kindle Unlimited work. But all I'm saying is that if there are millions of Amazon users loyal to Prime and Kindle, there are still billions more of readers who are loyal to their favorite authors and who, as proved by the following of #ReadHachette on Twitter, will do anything to support them.
Last month, when Amazon took down all of Hachette's e-books from its website, authors and fans took to the streets, buying Hachette books from local book stores in protest. Amazon must know that for readers who still feel as strongly, there are a good selection of Kindle Unlimited competitors online who launched unlimited e-book subscribing services long before it even thought to. For $9.95 per month Oyster, also known as the (official) "Netflix for books," offers unlimited e-books for Android, Apple iOS, and Kindle users and for just $8.99, so does Scribd with its gigantic community of more than 80 million active users. Plus, if you look hard enough online, you can find most of the good, popular e-books for free anyway!
But Amazon surely knows this, and is Amazon even worried? Certainly not. After all, according to Yahoo! Finance, Amazon's stocks shot up to $358.95 following the Kindle Unlimited launch on Friday and when you're busy celebrating your profits, who cares about competitors or authors or publishers or readers, right?