Aipower announces the launch of Wearbuds Pro
The launch is coming for the next generation of true wireless earbuds charged on the wrist in a fitness band.
LONDON, AUGUST 4th 2020, Aipower®, an innovative smart device developer, today announced the next product in its Wearbuds® wristband-housed true wireless earbuds range, the Wearbuds Pro. The new model combines TWS earbuds and a fitness wearable for go-anywhere premium audio, on-wrist charging and modern style. Its unique design eliminates the need for carrying an additional charging case while adding powerful features for fitness tracking and phone notifications. Available now (August 4th) on Indiegogo with pledges starting from $89/£71
Today, people rely on the convenience of wireless earbuds but keeping them charged can be a hassle and carrying an additional charging case is inconvenient. Wearbuds changes all that. The 1stgeneration Wearbuds revolutionized mobile audio with earbuds charged and stored conveniently at the wrist for music on the go using a patented design. They perfectly fit the unique needs of users and earned over 900k on their first round of crowdfunding.
Now, the team at Aipower is back with Wearbuds Pro – its next generation version that provides a more convenient way to use earbuds. Wearbuds Pro includes powerful features such as Graphene Dynamic Driver, Qualcomm smart audio chip, aptX support, Bluetooth 5.0 , along with advanced features such as scratchproof, fingerprint resistant Corning glass, 262k color TFT HD display and matte finish metal case for enhanced style. The Wearbuds Pro fitness band is also upgraded with multiple sport modes for enhanced exercise tracking including a built-in motion sensor, seven-axis accelerometer, heart rate sensor, pressure sensor and is capable of sleep, step heart rate and floor monitoring as well as calorie calculation.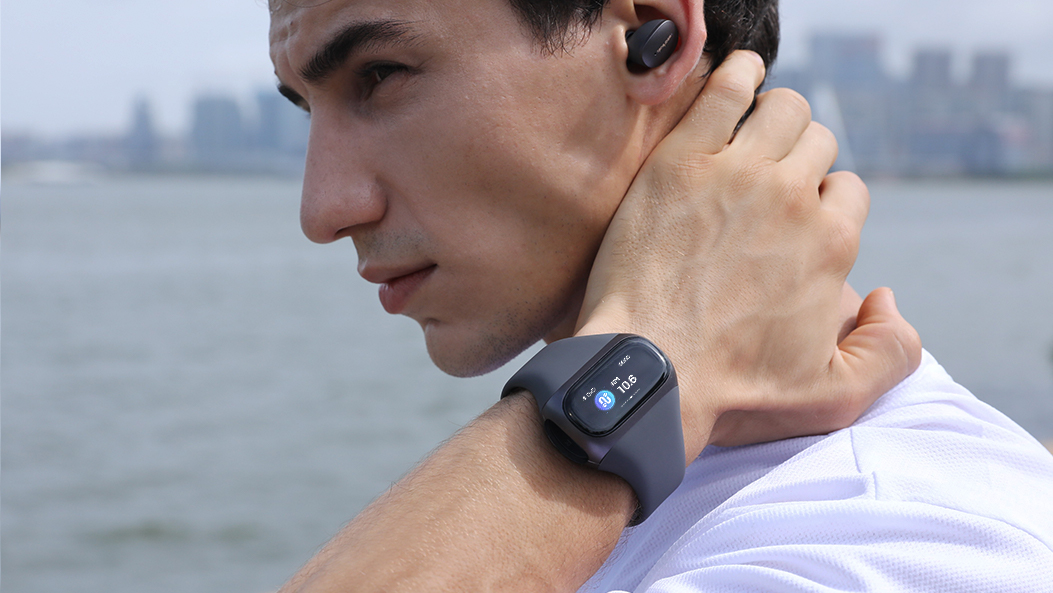 Providing a new, innovative and more convenient way of interaction whilst using the earbuds, the fitness band can be used to control music playback or pause, and also answer or reject calls. The fitness band is touch screen with gesture control, making it easy to scroll through the various functions and also displays the earbud battery life. No more song skips or call hang ups when accidentally touching the ears.
The Wearbuds Pro feature True Wireless Sound, seamless connection to mobile phones and a rock solid connection thanks to Bluetooth 5.0 connectivity. They are built around graphene drivers, an advanced super material that has special properties that make it uniquely suited for high fidelity audio. The impressive sound is driven by a Qualcomm smart audio chip.
Gary Chan, CEO AiPower, commented, "Everyone loves the freedom of wireless earbuds but they present unique problems. First, without wires they are easy to misplace or lose, especially during exercise and outdoor activities. Secondly, having the necessary battery life requires frequent recharges and the need to carry an additional charging device. Wearbuds Pro solves both issues."
"By storing and charging conveniently on the wrist, users will always have their earbuds safely secured and ready. The wristband is also a full-featured fitness band for exercise tracking and phone notifications. With Wearbuds Pro, users can enjoy longer workouts and listening sessions, it's the perfect partner for active on the go lifestyles."
The Wearbuds Pro use an intuitive app to track fitness and help users live a healthy lifestyle by analyzing essential exercise and sleep data along with calorie counting. It supports multiple modes such as walking, brisk walking, and cycling.
The innovative design with the earbuds stored conveniently at the wrist using a simple yet secure snap on/off structure which prevents them from getting lost and the updated system provides two full recharges and up to 15 hours of playtime.
Wearbuds Pro – True Wireless Earbuds Charged on the Wrist are available now with special discounts and deals for early adopters starting from $89/£71. Learn more on Indiegogo here
Shipping is expected in October