What's Coming To and Leaving From Netflix December 2018
In this day and age, dreaming of a white Christmas seems kinda problematic. This year let's keep it digital. That's right, let's all dream of a Netflix Christmas. For the upcoming December 2018 lineup, a veritable buffet of wonderful content is provided. Below we outline what to watch, and what to see before it's gone. Fa-la-la-la-la, folks.
GIFT-WRAPPED NEW ARRIVALS
'Netflix Christmas Specials' available December 1.
One of the coolest features of the streaming service is its seasonal options. For a "12 Days of Christmas"-like promotion, Netflix originals like Chilling Adventures of Sabrina, Neo Yokio, and Nailed It! will receive individual Christmas episodes or specials. In particular the Sabrina mini-feature, 'A Mid-Winter's Tale' (available Dec 14), looks to be an excellent addition to a stellar programming block. Here's a complete list. All shows stream on different dates. Ho-ho-ho!
'Mowgli: Legend of the Jungle' swings into action December 7.
Andy Serkis directs a new live action adaptation of The Jungle Book, hot off the heels of the Disney reboot. Serkis's directing, along with a stellar voice cast with the likes of Christian Bale, Cate Blanchett and Serkis himself, is enough to draw crowds in after opening presents. With daring action instead of the sprightly tones of the original, this one promises a fresher and different intensity. Mowgli growls amongst the animals December 7.
'Anthony Bourdain: Parts Unknown Season 11' ready to unwrap December 25.
While the holidays are a time for glee, cheer, and familial love, this year they also usher in Anthony Bourdain's brilliant eleventh season of Parts Unknown. The show is known widely for the food pleasures and indulgence (read food porn) but more significant is Bourdain's successes in breaking down the borders between groups of people and cultures. Parts Unknown has been and will remain a tome for worldly travelers and home bodies alike, a map for how to navigate the world and its inhabitants with grace, humility and respect. The world misses you, Anthony, even though you haven't been gone for very long. Make sure to enjoy Season 11 with a hot bowl of pho and prepare for mind expansion, starting December 25.
'Ellen DeGeneres: Relatable' erupts with laughter December 18.
One of TV's top personalities has a new comedy special coming out this December. The ever-lovable Ellen is sure to bring her own classic wit and hilarity to her new Netflix exclusive comedic event. Directed by comics titan Tig Notaro, who described directing as this special as "an out-of-body experience," which suggests enough evidence that this should be added to your "list" (you don't even have to check it twice!). Stream it December 18, laughing all the way.
Holiday Depression: Here's What's Leaving Netflix in December 2018
'Moana' surfs out December 20.
The songs in this movie are so damn good. The characters are well done, very cute, and hilarious (Dwayne 'The Rock' Johnson!). Let's not forget the strong female protagonist going against the odds of society. While the plot may be typical Disney fare, everything else is not. Moana is beautiful, a movie best enjoyed with family. A perfect flick for warming up around the fire and roasting chestnuts. Don't miss Moana, she'll be available to stream until December 20.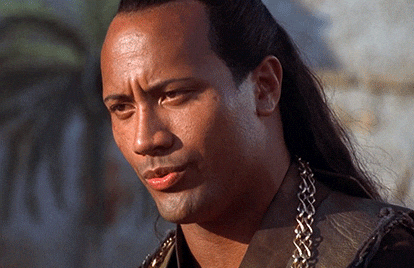 'Hellraiser' ices out December 1.
Clive Barker shocked a generation when Hellraiser hit theaters. The grotesque characters and odd storyline are magnetic enough to keep you glued to your seat  There's a very Lovecraftian vibe throughout the movie and the payoff to see Pinhead (warning: linked video may be disturbing) live in the flesh is well worth it. It goes back from whence it came December 1.
…AND TO ALL A GOOD NIGHT!
Happy Holidays to all you Geeks out there! From the Geek Insider team, we want to thank you all for your dedicated readership. It means the world to us that you stop here for all your Geek-related news and updates. Until next month, stay happy, healthy, and tuned into the entertainment stream. Just one of the many things we have to be thankful for in this vast, confusing and crazy world.
Below is a full list of all December's new arrivals as well as the programs leaving the Netflix platform.
Be well and geek on!
New Arrivals
December 1
8 Mile

Astro Boy

Battle (film)
Bride of Chucky

Christine

Cloudy with a Chance of Meatballs

Crossroads: One Two Jaga (film)
Friday

Friday After Next

Hellboy

Man vs Wild with Sunny Leone: Season 1

Meet Joe Black

My Bloody Valentine

Next Friday

Reindeer Games

Seven Pounds

Shaun of the Dead

Terminator Salvation

The Big Lebowski

The Great British Baking Show: Masterclass: Season 5 Masterclasses

The Last Dragon

The Man Who Knew Too Little

December 2
December 3
December 4
December 6
December 7
December 9
Sin senos sí hay paraíso: Season 3
December 10
Michael Jackson's This Is It
December 11
December 12
December 13
December 14
December 16
December 18
December 21
December 24
December 25
Anthony Bourdain: Parts Unknown: Season 11
Marvel Studios' Avengers: Infinity War

December 26
Alexa & Katie: Season 2
YOU
December 28
December 30
December 31
The Bill Murray Stories: Life Lessons Learned From a Mythical Man
December (date unannounced)
Departing
Leaving December 1
Cabin Fever

Cabin Fever 2: Spring Fever

Groundhog Day

Happily N'Ever After

Happily N'Ever After 2: Snow White

Hellbound: Hellraiser II

Hellraiser

Sons of Anarchy: Seasons 1-7

Spider-Man 3

Spy Hard

Stephen King's Children of the Corn

Swept Under

The Covenant

The Game

Leaving December 4
Air Bud: Seventh Inning Fetch

Air Bud: Spikes Back

Air Bud: World Pup

Air Buddies

Cars Toon: Mater's Tall Tales

Spooky Buddies

Tarzan & Jane

The Brave Little Toaster Goes to Mars

The Brave Little Toaster to the Rescue

The Crimson Wing: Mystery of the Flamingos

The Search for Santa Paws

Tinker Bell

Tinker Bell and the Great Fairy Rescue

Tinker Bell and the Lost Treasure

Leaving December 7
Leaving December 10
Battle Royale

Battle Royale 2

Teeth

Leaving December 15
Leaving December 16
Tinker, Tailor, Soldier, Spy
Leaving December 17
Beverly Hills Chihuahua 2
Leaving December 19
Leaving December 20
Moana

Food, Inc.

I Give It a Year

Leaving December 22
Leaving December 25
Pirates of the Caribbean: The Curse of the Black Pearl
Leaving December 31