What's Coming and Going From Netflix January 2019: HAPPY NEW YEAR!
If your New Year's resolution for the what-will-be phenomenal year of 2019 is "watch less television," then this post is not for you! Netflix's 2019 haul offers a veritable gauntlet of excellent content and sufficient time-wasters. If your resolution is to get to the gym more often, download the app and stream while getting absolutely yoked, y'all. Step into a New Year, New Me and let's get to it.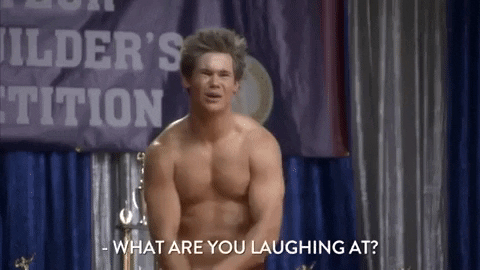 NEW ARRIVALS
'Solo: A Star Wars Story' enters the Netflix galaxy January 1.
While the Star Wars franchise's most recent entries in the canon have been mixed bags (some love them, other hate them), the 'Star Wars Story' entries started off very promising (looking at you, Rogue One). Thus, Solo is no different, filled with the expected space opera fare, while adding some hip nuances and new tricks. Plus, we get Donald Glover as Lando Calrissian, so what's not to love about this? Stream Solo starting January 1, but be mindful of who shot first.
'Trigger Warning with Killer Mike' pops off on Netflix January 18.
I have always loved Killer Mike. His rapping prowess has been around awhile, yet after his star turn in the hip hop power duo Run The Jewels (with the inimitable El-P, a legend all his own), it's like he has a new lease on his life (not that he never did, this guy is prolific). Trigger Warning seems to be the perfect platform for his unique brand of social activism and sense of humor. The guy is whip-smart, and a pleasure to watch during the interviews. I mean, we're talking about the guy who freakin' interviewed Bernie Sanders in a barbershop. Iconic. Watch it when its premiere January 18.
'Conversations with a Killer: The Ted Bundy Tapes' creeps to Netflix January 24.
True crime fans, unite! Last Podcast on the Left and My Favorite Murder fans, rejoice! Netflix is bringing more violent lore to digest and stew on. These are exclusive conversations with Ted Bundy, previously unreleased until now. The man's tale of horror and murder is intriguing because he had the easiest time hiding in the plain sight (his devilish good looks.) True crime stuff can get pretty heavy, so don't forget your snacks for stress-eating. Watch out for Ted on Netflix starting January 24.
'COMEDIANS of the world' streams January 1.
In what is Netflix's most ambitious comedy special thus far, COMEDIANS of the world offers a bona fide buffet of chuckles and drollery. The roster spans across the globe, from countries such as Canada, New Zealand, France, Africa, and several more. Some familiar American names stick out, like Chris D'Elia and Nicole Byer, but even if those names ring a bell, it's likely you should stick around and help discover the next big comedic talent rising from the Middle East. An entire Earth's worth of comedy? An amazing bang for your buck.  Streams January 1.
OUT WITH OLD, IN WITH THE NEW
(or watch these before they're gone forever on Netflix)
'It Follows' leaves Netflix January 13.
It Follows kicked off what has become a revolution in the horror world. Its visceral take on a classic monster trope worked so well that many watchers had to keep one eye open while sleeping. The basic notion is that when two young adults have sex together, it passes this curse between the two. The only way to get rid of the curse is to sleep with someone else, unless the creature kills you first. Maika Monroe does an amazing job in the lead role, and it's always nice seeing Keir Gilchrist. But what really shines here? The soundtrack. Watch it quick, or it might follow you back. Leaves January 13.
'Face/Off' leaves Netflix January 1.
Nicolas Cage? John Travolta? In a movie together? And you're telling me they switch bodies? Alright, yeah. I'm in. This is Nic Cage before he did some of his best work in Adaptation and can't we always count on Travolta? Director John Woo was given full creative control in this outing, too, and he's famous for an action classic, The Killer. Check it out before it leaves Netflix January 1.
THAT'S A WRAP, 2018!
On behalf of everyone working at Geek Insider, I want to wish you the happiest holiday possible. Thank you so, so much for patronizing our work and supporting what we do:  provide essential geek info to the masses! Without you, we'd be lost. Enjoy your New Year's Eve, set some resolutions and most importantly: be merry! We'll see you next year.
Love,
The Geek Insider Crew
p.s. don't forget to go outside every once in a while.
FULL LIST OF ARRIVALS AND DEPARTURES BELOW.
ARRIVALS
January 1
Across the Universe

Babel

Black Hawk Down

City of God

Definitely, Maybe

Godzilla

Happy Feet

Hell or High Water

I Know What You Did Last Summer

Indiana Jones and the Kingdom of the Crystal Skull

Indiana Jones and the Last Crusade

Indiana Jones and the Raiders of the Lost Ark

Indiana Jones and the Temple of Doom

It Takes Two

Jay and Silent Bob Strike Back

Jersey Boys

Mona Lisa Smile

Mr. Bean's Holiday

Pan's Labyrinth

Pulp Fiction

Swingers

Tears of the Sun

The Addams Family

The Boy in the Striped Pajamas

The Dark Knight

The Departed

The Mummy

The Mummy Returns

The Strangers

Watchmen

xXx

XXX: State of the Union

January 2
Monty Python and the Holy Grail
January 4
January 9
January 10
January 11
January 15
January 16
January 17
American Crime Story: The Assassination of Gianni Versace
January 18
January 21
January 24
Hotel Transylvania 3: Summer Vacation
January 25
January 27
January 29
Marvel Studios' Ant-Man and the Wasp
January 30
January (date unknown)
DEPARTURES
Leaving January 1
The Shining

Beethoven's Christmas Adventure

Blade

Blade II

Bram Stoker's Dracula

Catwoman

Face/Off

Finding Neverland

Friday Night Lights

How to Lose a Guy in 10 Days

I Am Ali

Interview with the Vampire

Into the Wild

Journey to the Center of the Earth

Kung Fu Panda

Law & Order: Special Victims Unit: The Fifteenth Year

Law & Order: Special Victims Unit: The Seventeenth Year

Law & Order: Special Victims Unit: The Sixteenth Year

Like Water for Chocolate

Love Actually

Madagascar: Escape 2 Africa

Marie Antoinette

Meet the Fockers

Meet the Parents

Million Dollar Baby

Monsters vs. Aliens

Mortal Kombat

Rent

Sharknado

Sharknado 2: The Second One

Sharknado 3

Sharknado 5

Sharknado: The 4th Awakens

The 6th Day

The Godfather

The Godfather: Part II

The Godfather: Part III

The Green Mile

The Iron Giant

The Princess Diaries

The Queen of the Damned

The Reaping

Leaving January 4
Pocahontas II: Journey to a New World
Leaving January 13
Leaving January 14
Leaving January 18
Rogue One: A Star Wars Story
Leaving January 19
The Lord of the Rings: The Fellowship of the Ring