South Korea Rocket Launch: A Success
South Korea launched their homegrown rocket last January 30, 2013 (Wednesday) in an attempt to put a satellite in to orbit for the first time and to also match the feat that its hostile neighbor, North Korea, was also able to attempt last year. The launch, which was South Korea's third try, was also their first attempt since 2010.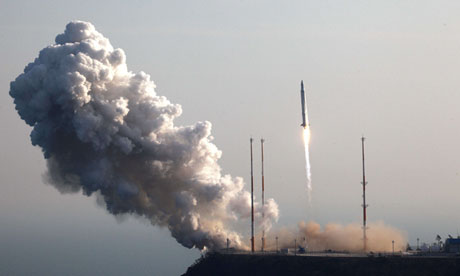 South Korea Rocket Launch was a successful feat amid increased regional tension.
The Korean Space Launch Vehicle-1 which was also called as the Naro Booster, or Naro-1, was seen blasting off from the launch site on January 30th. The launch site was placed on the edge of an island near South Korea's coast. From South Korea's Naro Space Center, it was able to soar approximately 300 miles. The satellite which was a 220-pound (100 kilograms) STSAT-2C satellite was placed on top of the rocket which was measured about 33 meters in height.
Reports have confirmed that Naro Booster was able to successfully complete its stage separation before the satellite actually entered the orbit. Previous launches failed within minutes and this third attempt was the sole successful one. Maybe the third time's the charm, then?
Lee Ju-ho, the minister of education, science and technology declared the launch a complete success after about an hour of takeoff. Additionally, he is quoted as saying:
"At 4 p.m. today, the Naro was successfully launched. The satellite was deployed 540 seconds after the launch and an analysis of related data shows the satellite has successfully entered its target orbit."
It can be safely assumed that South Korea scientists were dealing with heavy pressure to make this rocket launch a victorious one. North Korea was able to carry out its own successful launch, the Unha-3 rocket, just last year, amid the strong protests of UN Security Council resolutions.
Naturally, North Korea was angered by this event. The reason for this, they say, is that it is unjust for them to be singled out for UN sanctions for launching long-range rockets as part of its space program.
In a response, North Korea has stated that it is currently planning to conduct a new study regarding nuclear tests. This study will definitely necessitate the launch of rockets, once again. All of this was said, after the UN Security Council voted to tighten sanctions directed towards them.
Also, it is interesting to note that North Korea is doing all these preparations in order to help them with the development of a new phase of "confrontation" with United States? Well, that doesn't sound good at all.
Analysts were quick to defend the launch of South Korea by saying that it is more transparent. They say that the South Korea Rocket Launch was clearly focused on civilian applications and not general warfare.
The success of South Korea puts them among the elite group of nations that were able to achieve the same feat of sending a rocket in local land: Russia, United States, Japan, China, France, Israel, North Korea, Iran and India.
How do you feel about South Korea's rocket launch? Tell us in the comments below!