In Case You Needed a List Confirming that Reylo is Canon
It's scary that you can warp the ending of an entire franchise with enough social media followers. That one carefully concocted headline can mislead an entire fandom and beyond. If words can be twisted, it isn't hard to bend them. Unfortunately, people out there who dislike events and "pairings" in franchises, TV shows, movies, etc. can use this to their advantage. And this is how some infamous rumors about the Rey/Kylo Ren relationship (or "Reylo") were able to spread like wildfire.
It was frustrating to see, as both a Star Wars fan and journalist, because it showed how scarily easy it can be to spread misinformation about literally anything.
As I mentioned above, the rumors against the Reylo relationship have spread like wildfire, with absolutely no basis other than out-of-context clips and unfounded speculation.
And, fandoms aside, that is pretty scary.
Hopefully this article can enlighten those who read the headline of a certain website's article and any others that sprouted because of it.
To anyone who heard any other rumors and wants to know what's real and what isn't, to anyone who wants to read a list of why Reylo is canon and what the truth of the matter is, this article is for you.
Now, without further ado, here is the list (first with things needing to be debunked):
#1: DEBUNKED: "The kiss wasn't romantic"
Ah. The kiss that launched a thousand "woots" and whistles in movie theaters all across the world. The now divisive kiss, only questioned in intent about two years ago, when a certain enormous website spread a big rumor that the kiss the two shared wasn't romantic. You heard that right. They claimed it was, instead, one of gratitude. That's it. Just gratitude. Simply because the author had put that word first in her list of what Kylo's character thought Rey might be experiencing during their shared moment of intimacy. And somehow, people just accepted it as fact. And then many people bullied those who enjoy the pairing.
This whole thing led me to being frustrated on many levels. First, why can't people just accept events in movies and let people like what they want to like? Second, why use your status as a journalist of a popular website to misinform an entire fan community and beyond? You're wielding two troubling swords in a fight no one wants to participate in.
But with that aside, there is so much to debunk in this particular claim.
The first one is pretty straightforward: This was neither confirmed nor declared by absolutely anyone who worked on the movie. Someone online just decided to write it up one day and people believed them. But those who clicked on it and read it, fully understanding that this person had no authority over the matter, saw that the writer of the article was taking liberties just because they could and because they wanted to. They had the readership and social media following, so they essentially got to do whatever they wanted. They knew people would believe them (because with social media presence comes a certain level of power) and they knew people would share it.
A writer at Forbes (a magazine far surpassing this other particular website in prestige and any kind of merit) even wrote a follow-up article addressing this claim, saying that the novelization of the movie wasn't saying the kiss wasn't romantic; the moment was just written kind of clunkily. And this made me wonder what the novelization's author was thinking, because I know she laughed off the claim in her own tweets, first saying, "Whoa. Did I just feel an earthquake? In Arizona?!?" and then following up the Tweet with another that read, "Not an earthquake. I guess this is just what happens whenever I give my husband a kiss of gratitude." 
Aside from anything else, though, and back to the book itself: the part of the chapter with the kiss is written in Ben Solo's perspective, so the intent behind Rey initiating the kiss wouldn't even be known anyway, which renders the entire claim (that it was not romantic) unfounded. Someone wouldn't give someone else a cupcake with a "Happy Birthday" banner on it just for the recipient to say, "Thanks for this cupcake of gratitude!" and walk away, letting the recipient tell everyone else it was a cupcake of gratitude when it was clearly one of birthday celebration. That doesn't make any sense.
Plus, Kylo/Ben wasn't even necessarily interpreting it that way anyway. He was excited and surprised she kissed him because he always felt like crap about himself and he was so elated she'd kissed him and was probably trying to make sense out of it. The entire quote was, "His heart was full as Rey reached for his face, let her fingers linger against his cheek. And then, wonder of wonders, she leaned forward and kissed him. A kiss of gratitude, acknowledgment of their connection, and celebration that they'd found each other at last." Notice the quote did not say, "Rey pecked him on the lips really quickly and awkwardly to give him a high five of thanks with her mouth."
And if we're going by the book(s), there are tons of excerpts that prove the opposite of what this website had tried to claim from the wording following their kiss. Just read the books and you'll find them. The Last Jedi novelization is especially full of these types of moments. 
#2: DEBUNKED: J.J. Abrams saw their relationship as platonic
At the end of 2019, people against the Reylo relationship tried to claim that J.J. Abrams saw the relationship as more of a brother-sister/platonic thing and that he was talking about this in regards to the final movie. This wasn't true. He was actually answering a question about whether he always knew they would be romantic, to which he replied that they weren't sure at the time of The Force Awakens but that he had always felt like it was romantic. We cleared up this rumor at the time, but many people may have missed it. For those who did, here are the screenshots of the original interviewer, Disinsider, explaining that the clip was taken out of context:
In our previous article, we also went on to mention that the editor for The Rise of Skywalker, Maryann Brandon, mentioned that she and J.J. Abrams felt the kiss was right but also mentioned that she knew the kiss wasn't going to please some people but that "this wasn't a film that was going to please everyone". The HuffPost article about this, from which the following quote originated, can be found here:
I always said, 'The movie will tell us whether they should kiss or not. We will know by the time we get to the end of our process, if it should happen.' And I felt it should, and [director J.J. Abrams] agreed with me, and other people who saw the film agreed."

Brandon praised the performances in the scene, especially the moment Kylo Ren smiles, the first time the character has smiled in three movies.

"I know it's not for everybody," she said of the kiss. "I know there will be people who wish they hadn't, but this is a film that was never going to please everyone, and I think that the reviews are kind of reflective of that. The things that certain people love, other people hated. And that's the phenomenon of 'Star Wars.'
#3: CONFIRMED: The actors and directors have confirmed the romance many, many times
Yes, you heard that right. Rian Johnson, Daisy Ridley, and others have confirmed this romance and have talked about it.
The following is a list of noteworthy quotes and moments from the actors and directors:
*Both in The Last Jedi novelization and in a deleted scene for the movie, Luke says to Rey (after the infamous hand-touch scene), "You opened yourself up to the dark side for a pair of pretty eyes." And Mark Hamill talked about how girls like bad boys (when talking about this movie) and that their hand touch scene was the closest to a sex scene we'll get in a Star Wars movie.
*Last year, author Sariah Wilson interviewed Rey actress Daisy Ridley and The Last Jedi's director, Rian Johnson, and discussed the relationship between Rey and Kylo Ren/Ben Solo.  While Ridley talked about how she and Adam Driver (the actor for Kylo Ren/Ben Solo) had good chemistry and talked about how Rey and Ben had an entire "relationship journey", Rian Johnson gave even more insider information, also stating that the two were indeed romantic.
We followed up with Sariah Wilson for this article, and she let us know what Rian Johnson discussed with her. She said the following:
I asked him if in the scene where Kylo offers his hand, was that romantic/a botched proposal like Darcy in P&P and Rian said yes, very much so. He pointed out that it was NOT like Vader and Luke where Vader was attempting to manipulate and use Luke to get power, that Kylo was alone and wanting to be with Rey and wasn't trying to manipulate her in that moment. Kylo wanted Rey.

As far as the elevator scene went – I asked if he had ever considered having Reylo kiss in that scene and he said no, that he was building romantic tension by having angst/longing in that scene. I told him that I wanted him to direct a version of Pride and Prejudice starring Adam and Daisy and he said, "I already have."
*Many other quotes and noteworthy moments can be found on the Internet regarding the romance between these two characters, but perhaps one of my favorite, albeit vaguer, moments came when, during an interview conducted the month before TROS came out, Adam Driver was asked to sing a song that Kylo Ren would sing, and he sang "Leaving on a Jet Plane" by John Denver. 
#4: There is official, Disney-licensed merch
There are official, Disney-licensed Reylo merchandise, including Loungefly bags and pins, RockLove necklaces, and even a new Valentine's Day shirt that Disney released this year. 
#5: They are listed as a Star Wars couple on the Star Wars website
Last but not least: if you go onto the official Star Wars website and take either the "Which Star Wars Couple Are You?" quiz or the quiz that tests your knowledge of Star Wars couples (called "Can You Guess the Star Wars Couple?"), Rey and Ben Solo are listed as a couple. Pretty self-explanatory and is enough proof on its own.
In conclusion, we have a slew of evidence showing that Reylo is canon to refute any rumors or quotes taken out of context. There are many more examples out there showing that the pair is indeed romantic, but this article should list enough to set the record straight. And if you want further proof, just watch the movies: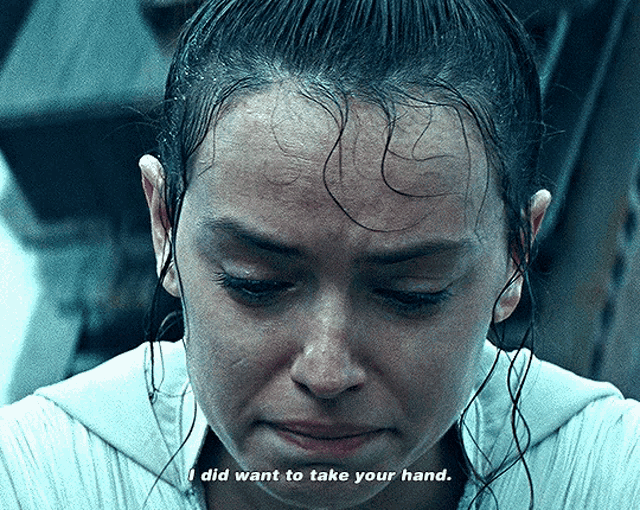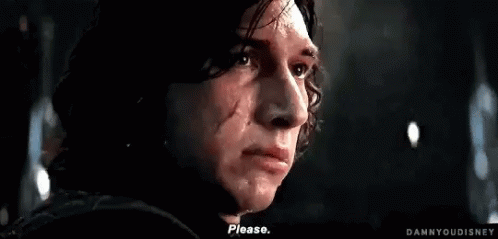 ~~~~~
The following are the sources of the first four gifs: https://www.tumblr.com/blog/view/lovemomentsandlife/189818902088