HP Color LaserJet Pro: High-Quality Printer for a High-Speed World
HP's Laserjet Pro MFP series is one of the best and most feature-packed printers I've ever used. Everything is built into a compact form that can easily fit on a computer desk or small table with room to spare. When I was asked to do a sponsored review for an HP printer, I didn't expect to be so impressed by this printer's high-quality printing and copying capabilities, but it definitely surprised me with its versatility. I have enjoyed using this printer in all of its excellent and efficient features, and I would recommend it to anyone looking for a good printer. So without further ado, here are the details of this high-quality little printer.
Small, But Powerful
This printer can do a lot of things. When I tested it, I discovered that its rate of printing is quite rapid, even after waking up from its automatic sleep mode, a setting which you can adjust. In fact, you can fairly extensively modify every setting there is, which makes it incredibly useful. It sports advanced toner technology, called JetIntelligence, which saves on toner while still printing an easy-to-read sheet, and you can modify these settings to economize on the toner you use so you don't run out anytime soon. It can print in color, too, and the colors are bold and vibrant.
This LaserJet also has a scanner/copier/fax function on top of the main body. The scanning function is quick and easy to set up, and can scan a page within seconds. You can scan to multiple different formats and have it save to your computer, send the scan as an email, and of course, print as many copies as you want. The fax machine is equally useful, and would be of special interest to any business that desires to have this method of document sharing.
As is the case with pretty much all printers today, this Laserjet Pro has different methods of receiving documents and information. It comes with a cable that you can attach to your computer. It can receive print jobs (and scan documents, too) via local area connections (both Ethernet and WiFi) and its built-in WiFi direct service. You can even plug in a USB drive or print wirelessly from your phone or tablet!
Beyond these features, I was surprised to discover that this printer came with other applications. When connected to WiFi, it can access and print small newspapers (a couple pages' worth of news), coloring sheets for yourself or your little ones, puzzles such as Sudoku and crosswords, and much more. So if you want quick access to a few pages of printed news without paying for a subscription or just want to take a break and be entertained for a little while, these apps and more are a great solution!
When I was getting my first feel for this printer, I was amazed at the speed and efficiency with which it works. It can easily print large jobs quickly, can print double-sided (though to do this, you must first flip the page and feed it back through, which takes a matter of seconds and doesn't take long to get used to), and even boasts energy-saver technology which would definitely be of use to any company that is looking to go green.
Granted, there are some drawbacks, though they aren't major. Sometimes the local area connection doesn't work as well as it should (which could also be a problem originating from the fact that my computer is rather advanced in age). Also, because this is a small printer, there isn't a huge space for paper storage. I can fit about a third or a half of a ream inside the compartment at one time. But as I said, this isn't a big deal, because I'd rather have a small printer that I have to refill every once in a while than have a huge printer that I almost never have to refill.
Reinvent Your Office With HP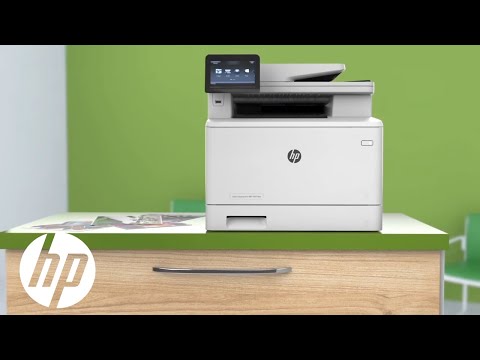 All in all, this HP printer is excellent. At a price of about $550, it is a bit on the expensive side, but if you're in need of a good printer that won't skimp on you, will do pretty much anything you need it to do with ease, and will last a while, then I definitely recommend it. It's flexible enough that you can use it for your home, workspace, or business. It packs a lot of features in its small frame, and it might surprise you! So go ahead and check this one out!
This is a sponsored post written by me on behalf of HP. All opinions are 100% mine.