Astronaut Tweets from Space: Ron Garan
Check it out: Astronaut Ron Garan explains how he tweets from space. Also, some breath-taking space shots will be featured in this round-up.
Ron Garan, a member of Expedition 27, is popularly known in Twitter as @Astro_Ron. You got that right – aside from carrying out his daily NASA missions, Ron Garan still finds time to chill out and send space tweets that are literally out of this world!
Obviously, a lot of people are interested to find out recent space updates, so he has quite a number of followers as of right now. Of course, we are still expecting this number to increase as more and more space discoveries are being made.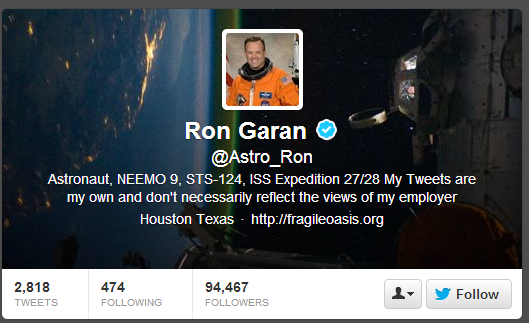 Most astronaut tweets from space deal with wonderful pictures of the Earth, of the Space Shuttle Atlantis and of various spacewalks of his team members. He is able to do all of this right from the comforts of his base at the International Space Station – how amazingly cool is that?
Yes, you heard that right. Something as wickedly cool as tweeting from outer space is now possible. It can be done. In fact, Ron Garan has done it a thousand times already!
How Does Astronaut Ron Garan send Tweets from Space?
He answered this question by stating this quote:
We have a … down link of a data path that we can control a computer on the ground as a slave computer.
Basically, then, what happens is that they have a remote desktop at the center. When there is coverage available, they would log onto their laptops and their laptops would then connect to the remote desktop at the center. This connection is what makes them able to use this remote desktop as the "slave computer".
However, of course, this connection doesn't really have all the capabilities  – he can access Facebook, Twitter, email and other social media platforms, but he can't really access any streaming audio and video.
To give you a better idea of its features, think of it as having a dial-up at your home once again. The difference is only this time, your house doesn't have any cranky neighbors or boisterous garbage collectors because hey, you're going to be in outer space!
Aside from the Innovative Connection aboard the Internal Space Station, what other technological advances can we see?
Of course, with all the countless astronaut tweets from space revolving all over the Internet world, one can't help but think of the other useful technological inventions that are currently being developed. Ron Garan said that they're working on "cutting-edge facilities and new technologies", but he hasn't specified any names of inventions yet. This means that we have to wait and see first, then?
Here are some awesome tweets from space that several astronauts gladly shared with the rest of the world:
Ron Garan: Can you spot what's different?
In this picture, we can see a rather amazing view of our mother Earth. Sure, the atmospheric effects look lovely, but what really caught our eye is the little figure on the lower right section of the photo. Can you identify that figure right there? Is it just an obscure whitish spot?
Nope.
It is a lone iceberg floating in the ocean! Look again. Zoom in! Do you see it now?
Now, turn your attention to this odd-looking piece of a picture. Most viewers would think of this as either a piece of paper with mold on it or a piece of canvass with artistic touches. Personally, I think it looks like someone's visionary idea for an ant house.
However, here's what Chris Hadfield has to say about this picture:
Tonight's finale: The Andes mountains have an unbelievable richness of color and texture when viewed from Earth orbit.
Mind blown. It's actually the Andes Mountains! Well, when you actually know the name of the picture first before seeing it, I guess you can really appreciate the richness of the color and the raggedness of the textures more.
Chris Hadfield is back to present another out-of-this-world picture. This time, this picture isn't of the Earth – instead, it's of Chris and his little buddy in the form of a distorted sphere of water. Here is what he has to say about this picture:
If you blow on the weightless sphere of water it distorts, and creates a floating Fun House mirror.
The great part about this picture, aside from the obvious distortion of water, is the background image of Chris in an upside-down position. It really proves as a testament that the scenes we see in sci-fi films can actually be translated into realities.
Ron Garan: Woah. Look at where he's standing.
This picture from Ron Garan looks so simple and yet it speaks very high volumes about the development of today's technology, as compared to its predecessors. Who would have thought that a complicated scenario like this could happen in the future? (Yes, you might be saying Nostradamus right now, so nope, you don't really need to answer that…)
Here is Ron's tweet about this specific picture:
Standing On Top of the World! Px @Astro_Aggie took of me yesterday during our spacewalk Nice view of Persian Gulf.
Looking at the picture closely, you would think that he is just standing simply with an Earth background behind him, don't you think so? The calmness and overall simplicity of the picture doesn't really make it stand out at first, but when you stop for a while and really absorb the weight of its meaning, you're bound to appreciate this picture more and more.
It really seems so surreal that he's actually in outer-space!
And lastly, feast your eyes on this one:
Ron Garan: What does this picture remind you of?
Is this a view of an explosion?
What do you think this picture is? Tell us your best guesses in the comments below!