Summit Series: Group of Entrepreneurs Composed to Change the World
It isn't uncommon that you may have not heard of Summit Series before but if so I advise you to get familiar. Summit began as an annual four day event which will grow into a community of upper-level thinkers, but let's start from the beginning.
Founded by Elliot Bisnow, Summit started in 2008 as a collective event where young entrepreneurs who have made a name for themselves and accomplished guest speakers came to meet and further their knowledge. 19 entrepreneurs at a three day event at a Utah Ski Resort was the basis of Summit. The concept sprouted and just six months later it grew to accept 60 entrepreneurs; then in March of 2009 the White House asked to collaborate with these young geniuses to discuss economic recovery. The event once known as a ski trip laced with a few speakers grew to become the greatest group of young thinkers molded to discuss ideas that will change not just business but the world.
According to the Summit site:
We went on to host an annual four-day event, called Summit Series, for 1,000 of the world's leading entrepreneurs, nonprofit leaders, artists, scientists, athletes, and change makers. The events have driven more positive growth and collaboration than we ever could have imagined. Tens of millions of dollars have been raised for business and philanthropic ventures.
Whose Who
In the first three years, Summit Series was able to bring together guests in the capacity of President Bill Clinton, Ted Turner, and billionaire Mark Cuban. Also, even more relatable geniuses such as Sean Parker of Facebook, and TOMs shoes founder Blake Mycoskie.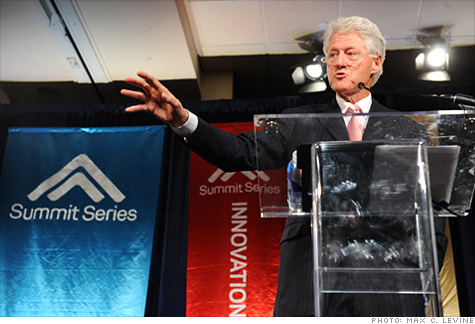 Although if you're planning to take a trip to take part in the event without invitation I suggest you begin saving because a ticket to Summit Series ranges from $2,500 – $5,000. Except the knowledge you may get insight too is priceless, the greatest of thinkers have blessed the stage.
Powder Mountain
Powder Mountain marks the permanent residence of the Summit Collective, yes a community of geniuses built to run the world. They describe the Utah property as an undiscovered gem in Utah's Northern Wasatch range. The founders of Summit purchased the mountain in 2012 and began development on the community of innovative culture that they hope will thrive there. The only difference is this is no longer an annual event but a lifestyle that is composed of the best of the best.
Summit Series has other activities as well outside of the business networking purpose. The organization hopes to continue the whitewater kayaking, skydiving, and shark-tagging as they establish this permanent residence. Since Summit's inception they have raised over $2 million for charities and non-profit organizations.