Netflix Coming and Going July 2018
Storm's approaching. Best to head back inside and wait it out. What could be better than some Netflix to pass the time? July is PACKED with loads of content that will certainly keep you engaged and glued to your couch. Load up the TV, or your laptop, and let's get to July's streaming essentials.
SATISFYING STREAMS
HER (2013) Directed by Spike Jonze. Available July 29.
As a huge Joaquin Phoenix fan, I can't recommend this movie enough. Costarring with Scarlett Johansson's voice, Phoenix plays Theodore, a man who develops a relationship with Samantha (Johansson), an intelligent computer operating system. Much in the same way that Shape of Water kept the audience feeling weird about…alternative relationships, Her will have you feeling similarly. Superbly acted and incredibly directed (Jonze is a personal favorite), this movie is not to be missed when it streams July 29.
MENACE II SOCIETY (1993). Directed by the Allen Brothers.  Available July 1.
Set in the Watts neighborhood of Los Angeles, Menace II Society is a tour-de-force within the "hood dramas" genre, popular in the nineties. Tyrin Turner's powerful acting as lead character Caine, along with the movie's emotional intelligence, are truly what makes it so compelling. It's gritty, real, and often disturbing (with themes that still resonate to this day in America). Menace also features performances from Jada Pinkett Smith and Samuel L Jackson. MC Eiht also makes an appearance, and happens to be a west coast rap legend.  This film will stay with you for a while after watching. Available July 1.
SHAMELESS SEASON 8. Starring William H. Macy. Available July 28.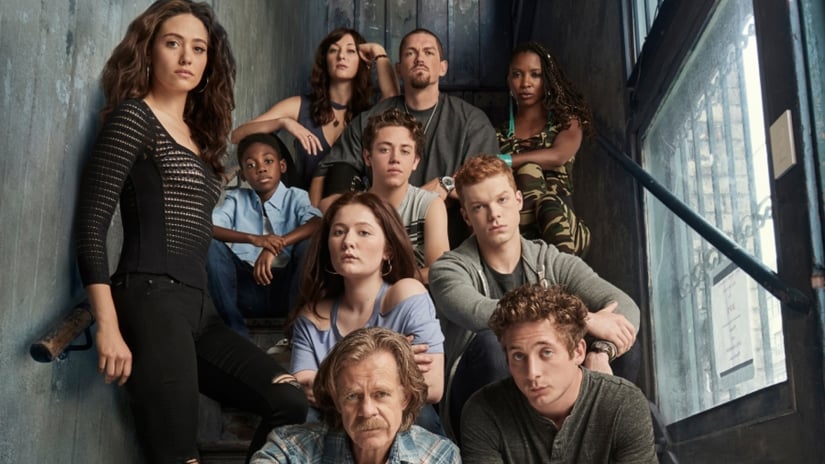 At this point, Shameless has become its very own kind of cable staple. The eclectic and talented cast, the drastic shifts from comedy to drama (yep it's a "dramedy" people), and its unique storytelling have kept the show surprising and interesting for eight seasons.  This season is amazing, and with actors like Jeremy Allen White (Lip Gallagher) and Cameron Monaghan (Ian Gallagher) carving out strong acting moments throughout, it just gets better and better. Season 8 promises plenty of drug-induced hazes for Frank (William H. Macy), as well as Fiona's (Emmy Rossum) difficulties as a successful landlord and Lip's attempts to stay sober. Hop on, you're in for a wild ride. Available July 28.
SAY IT AIN'T SO, PLEASE DON'T GO
BREAKFAST AT TIFFANY'S (1961). Directed by Blake Edwards. Leaves July 2.
American cinematic classic Breakfast at Tiffany's is slated to leave Netflix on July 2.  The film, loosely based on Truman Capote's novella of the same name, stars a beautiful Audrey Hepburn as Holly Golightly.  Holly is an elegant cosmopolitan woman, obsessed with Tiffany's jewelry store, and will stop at nothing in her chase for wealth and notoriety.  Things shift for Holly when one Paul Varjak (George Peppard), a struggling writer, moves into her apartment building.  The film won several Oscars, and was nominated for many more.  If you're looking for something heartwarming, you better binge Breakfast at Tiffany's before July 2.
EXTREMELY LOUD AND INCREDIBLY CLOSE (2011). Directed by Stephen Daldry.
Based on the novel of the same name by author Jonathan Safran Foer, Extremely Loud and Incredibly Close is set a year after the tragic events of September 11, 2001. A young boy, Oskar Schell (Thomas Horn), finds a key in his father's vase (who died during the 9/11 attacks) and is shaken to explore the depths of New York City to learn more about this mysterious key. Tom Hanks features as Oskar's father, Thomas, as well as appearances by such actors/actresses as Viola Davis, Sandra Bullock, and John Goodman. It was nominated for a Best Picture Oscar, so it's definitely worth viewing before it leaves Netflix July 1.
BEFORE MIDNIGHT (2013). Directed by Richard Linklater.
Boasting direction from the ineffable Richard Linklater, Before Midnight is the third of a trilogy of films starring Ethan Hawke and Julie Delpy. If Boyhood is any indication for those who haven't watched this one, you're in for a treat. Linklater's patented vision in addition to well-rounded performances from Hawke and Delpy bring the Before trilogy to an excellent close. Oh, and it also received Academy Award nods. Don't miss out: catch it before July 1!
IN CLOSING…
Below is a trailer of all the Netflix things you need to know for July, including a comprehensive list of new additions and, sadly, departures. As always, we appreciate you checking in with us for all your streaming news and needs. Until next month, stay streamy and keep it chill.
ARRIVING!
July 1
Blue Bloods: Season 8

Bo Burnham: what.

Chocolat

Deceived

Finding Neverland

Get Smart

Happy Gilmore

Hawaii Five-O: Season 8

Interview with the Vampire

Journey to the Center of the Earth

Jurassic Park

Jurassic Park III

Madam Secretary: Season 4

Menace II Society

NCIS: Season 15

Pandorum

Penelope

Queens of Comedy: Season 2

Rica, Famosa, Latina: Seasons 1-4

Scooby-Doo

Scooby-Doo 2: Monsters Unleashed

Spanglish

Stealth

Swordfish

The Boondock Saints

The Lost World: Jurassic Park

The Princess Diaries

The Voices

Traitor

Troy

Van Helsing

We Own the Night

We the Marines

What We Started

July 2
Dance Academy: The Comeback

Good Witch: Season 4

Romina

The Sinner: Season 1

July 3
July 5
July 6

Anne with an E: Season 2

Comedians in Cars Getting Coffee: New 2018: Freshly Brewed

First Team: Juventus: Part B

Free Rein: Season 2

Inside the World's Toughest Prisons: Season 2

Sacred Games

Samantha!

Somebody Feed Phil: The Second Course

The Fosters: Season 5 New Episodes

The Legacy of a Whitetail Deer Hunter

The Skin of The Wolf

White Fang

July 7
July 9
Lockup: Extended Stay: Collection 1

July 10
July 12
July 13
How It Ends
Jim Jefferies: This Is Me Now

Kevin Hart: Let Me Explain

Sugar Rush*

The Epic Tales of Captain Underpants

July 15
Bonusfamiljen: Season 2
Going for Gold

The Joel McHale Show with Joel McHale: Part 2

July 20
Amazing Interiors

Dark Tourist

Deep Undercover: Collection 3

Duck Duck Goose

Father of the Year

Fix It and Finish It: Collection 3

Home: Adventures with Tip & Oh: Season 4

Jimmy: The True Story of a True Idiot

Last Chance U: EMCC & Life After

Last Chance U: INDY: Part 1

Luna Petunia: Return to Amazia: Season 2

July 22
An Education

Disney's Bolt

July 24
The Warning

Iliza Shlesinger: Elder Millennial

July 27
Cupcake & Dino – General Services

Extinction

Orange Is the New Black: Season 6

Roman Empire: Reign of Blood: Master of Rome

The Bleeding Edge

The Worst Witch: Season 2

Welcome to the Family

July 28
Shameless: Season 8

The Company Men

July 29
Her
Sofia the First: Season 4

July 30
A Very Secret Service: Season 2

July 31
Terrace House: Opening New Doors: Part 3

LEAVING!
Leaving July 1
Alive
Along Came Polly
An Honest Liar
Beerfest
Before Midnight

Bring It On
Bring It On Again
Bring It On: All or Nothing
Bring It On: Fight to the Finish
Bring It On: In It to Win It

Cocktail

Extremely Loud and Incredibly Close

Lethal Weapon
Lethal Weapon 2
Lethal Weapon 3
Lethal Weapon 4
Little Women
Michael Clayton
Midnight in Paris
Mixed Signals
More Than a Game

Pandemic

Piglet's Big Movie

Rugrats Go Wild

Scary Movie
Scream 3

Terminator 3: Rise of the Machines
The Art of War

Tropic Thunder

V for Vendetta

Leaving July 2
Breakfast at Tiffany's

Leaving 7/8/18

Alpha & Omega: Journey to Bear Kingdom
Real Husbands of Hollywood: Seasons 1-5
Leaving July 9
Leaving July 11
Alice Through the Looking Glass

Leaving July 14
Leaving July 15
Convergence

Lockup: State Prisons: Collection 1

Small Is Beautiful: A Tiny House Documentary

Leaving July 16
Leaving July 29
Leaving July 30
A Cinderella Story

Hurricane of Fun: The Making of Wet Hot

Swing State