Halt and Catch Fire Recap S1E4 "Close to the Metal"
AMC continues to bring harrowing dramas set as period pieces.  Their latest is Halt and Catch Fire, a fictional take on the personal computer boom of the 1980's.  Why watch?  Think Steve Jobs mixed with Jordan Belfort and you might be right at home here.  Here's our latest look at the series.
Looking good in front of the masses
"Close to the Metal" opens with the Cardiff PC crew as they try to gather momentum in their development by finding new ways to construct their new PC's.  Unburdened by previous co-workers, Gordon (Scoot McNairy) allows his team to spread their wings to find newer ways to innovate their cooling process.  With all of the attention Gordon is putting on the project, however, it isn't buying him much goodwill at home, further driving old wedges at home.
Further, Cameron (Mackenzie Davis) has hit her stride, seemingly generating more and more code to find her way around making a comparable processor to that of IBM's.  Or at least this is implied.  The creators seem to be trying to find a careful balance between complicated tech lingo and the captivating dialogue necessary to keep the audience engaged.  Whereas with Breaking Bad where at least the majority of its viewership has had high school chemistry to supplement the chemicals involved in the inner workings of the show, the casual observer may look on in confusion as to what really went into making computers 30 years ago. Finding this balance may be telling as the season progresses.
All seems to be going well until the machinations of hurricane Joe (Lee Pace) come to roost as he's arranged for a visit by a reporter from business magazine, Wall Street Quarterly.  Desperate for attention, but only that which sheds too much light on just what's under Cardiff's hood, Joe feels introducing Cameron to the world as she is would only harm the company's image, especially after so many of their customers recently jumped ship.
Meltdown
With the stress of family life and the impending interview for Gordon and Joe, respectively, another unexpected hiccup occurs and all of Cameron's work is accidentally fried.  Despite some backup here and there, the majority of her work is potentially lost.  Through some quick thinking, Donna (Kerry Bishe'), beleaguered, is enlisted to somehow save the day.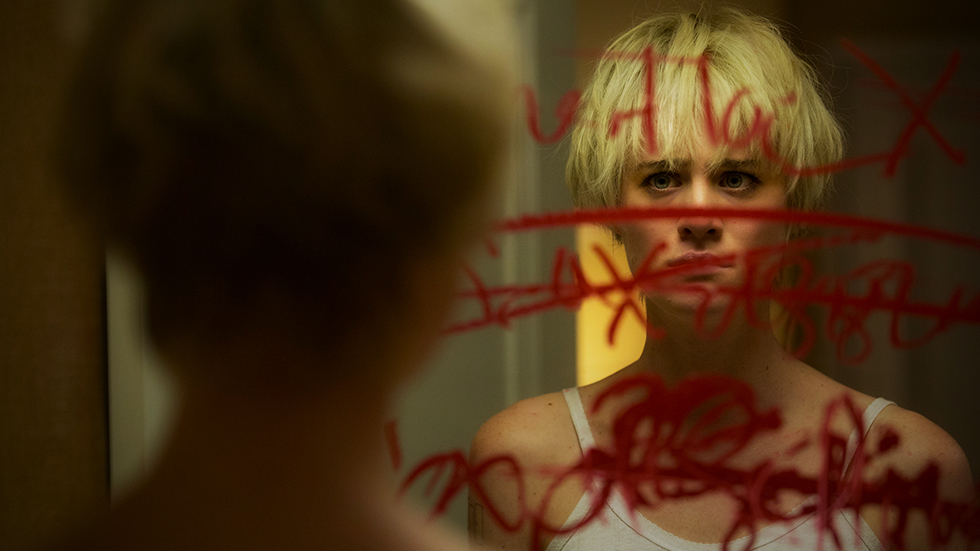 Some interesting character-work happens here with Cameron as she reels from the mishap involving her work.  The dread at which Davis plays throughout her sudden realization that barreling ahead with reckless abandon may not be the best stratagem is excellent.  Her later interaction with several established characters also bolsters a character that is largely tucked away for most episodes.  With Joanie and Haley, Gordon and Donna's daughters, her wonderful day continues to get worse as it's revealed just what their parents really think of her.  This leads her further and further down the depression rabbit hole.  Looking to take her anger out on the Clark's household, she is shocked when the disgruntled, and freshly unemployed, Brian Braswell barges his way into the domicile as well, shotgun in hand.  Vengeful and intoxicated, the former engineer goads on a horrified Cam who can do nothing but stare on at the broken man.
Returning to the Cardiff offices, Donna puts into place her plan to reclaim Cam's work to great success.  A collective sigh of relief spreads throughout the contingent, bringing together the workers while also spurning the exhausted Donna whose continued contributions to the project seem to come without any recognition, seeing as she is already employed by Texas Instruments, though for how long we have yet to see.  The episode concludes with this sour note, allowing for a moment of clarity amongst the jubilance, causing her to discover that Joe in fact orchestrated the entire affair surrounding the lost software, having it safely tucked away the entire time.  Anticipating Cam to freak out in reaction to the faked mishap, Joe ensured her not coloring the article in some abstract way.
Previously, we've seen just how far Joe will go to succeed in his quest to take down IBM.  This episode expanded that even further with the ruse he pulled on all involved here essentially wasting everyone's time for the benefit of their image and nothing more.  Pace continues to delight in the double-sided nature of his character.  It will be nice to see going further just who else he will or won't throw under the bus for his own gains and to what end his quest is traveling toward.
Punk meets Suzy Q
The two female leads really came face to face for a more prolonged period in this episode, finding more out about each other through their respective environments and work rather than what they saw face to face.  With the characters bonding in this way, Davis and Fox Bishe were able to play up the different sides of the same coin the both inhabited.  Arguably the most intelligent characters among the cast, the times being what they are have lead them to be pawns in a man's chess game.  Why would they need to fight each other?
Are you ready to be more?
A decent episode this time by AMC vet Johan Renck, smacked a bit like series past, continuing to flesh out the characters a bit without bogging itself down with much of the tech slowing the pace of the episode.  Though it did give itself a McGuffin for the audience to assume the team has made a lot of headway, there really seems to be a feeling of progression occurring in the series in some aspects.  Though, a more tangible asset for just what their ticking clock looks like may be needed for the audience to stay invested in the more theoretical work the series continues to play with.  You can only glaze the casual audience member over with seemingly incomprehensible tech jargon for so long before they've had enough.  The stakes are already high so making the immediacy of their deadline apparent would definitely go the extra mile for the series.