Ultenic launches the T10 robot vacuum cleaner with multiple cleaning modes and Auto Dust disposal
London, 13th May 2021: Smart home expert, Ultenic, today announces the launch of its T10 robot vacuum cleaner with mopping capabilities and Auto Dust Disposal features to the US market. The Ultenic T10 boasts four cleaning modes and various smart features including smart mapping, Ultra Carpet Boost technology and a super long battery life to enable an enjoyable and simple experience for cleaning the modern home. The T10 robot vacuum cleaner is now available to purchase from Amazon.com for $599. (Currently at $569.99 or $469.99 with the extra $100 coupon offer)
The Ultenic T10 robot vacuum cleaner is equipped with a super strong suction power of 3000pa and includes three adjustable suction modes including Standard, Quiet and Power. This makes the vacuum ideal to be able to deal with cleaning across the whole home and allow it to easily suck up a range of garbage of all sizes, from dust to hair, to ensure the floors are left spotless. Featuring an innovative Ultra Carpet Boost technology, the T10 can automatically adjust its suction power based on the different floor types it is cleaning which can substantially increase both the cleaning efficiency and the battery life. This feature ensures that the suction power is on max mode for carpet but will return to the previous mode as soon as it returns to hard floors.
In addition to being capable of three suction modes, the T10 is also able to provide multiple cleaning modes via the free app. When using the app, users of the robot vacuum can select between automatic cleaning, selective cleaning, spot cleaning, and edge cleaning based on the demands or needs. This can also be controlled through smart voice control as the T10 is compatible with Alexa and Google Assistant meaning that smart home users can easily integrate the vacuum into their home and simply give commands with their voice to start/stop cleaning, return to charging station and more, making cleaning a breeze. The 2-in-1 dustbin and water tank (280ml dust container and 300ml electric water tank) allows the device to vacuum and mop at the same time using EOMS Pro Mopping technology, saving a significant amount of time and hassle as there is no need to change the mode halfway through the cleaning process and it also ensures a full and thorough clean.
Supporting ILNS 3.0 (Intelligent Laser Navigation System 3.0), the robot vacuum can perform 360-degree omnidirectional scanning to increase the efficiency of creating maps and planning cleaning paths to substantially eliminate the interference of dark walls and bright lights. Using the Multi-Layer Mapping Technology, the Ultenic T10 can save more than one map on the app, allowing for multiple floor maps to be stored and for a user-friendly experience without the risk of losing map data for other floors once the cleaner has moved. Different cleaning times can be scheduled for different areas, floors or rooms for complete control and ease. Users can also set up forbidden areas by simply dragging the frame on the app to show the places that the vacuum should avoid. Up to 10 no-go zones can be added for each cleaning cycle and they can also be saved for the next cleaning job.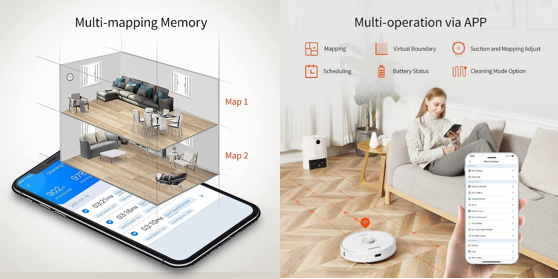 Allowing users to really relax whilst the Ultenic T10 does the work for them, the robot vacuum even includes an Automatic Dust Collection Base. Designed with ultimate convenience in mind, this feature means that the dustbin does not need to be manually detached to remove the dust as it can be cleared automatically. The T10 will do this once it has returned to recharge and aligned with the dust collection base once the cleaning cycle has been completed.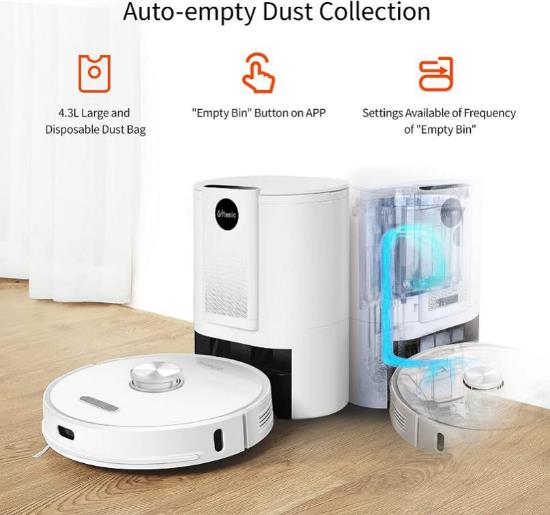 The robot vacuum has a super long battery life with a maximum runtime of up to 280 minutes under the silent mode. This is supported by a 5200mAh high-capacity battery which far exceeds other models and ensures that there is plenty of time and endurance to effectively clean an entire home on just one charge.
With excellent customer feedback so far, Ultenic products come with an automatic one-year worry-free warranty, which is an added bonus to the already incredibly affordable T10.
The Ultenic T10 robot vacuum cleaner is now available to purchase from Amazon.com for $599.(Currently at $569.99 or $469.99 with the extra $100 coupon offer)
High-res images are available HERE
About Ultenic:
Its brand slogan, "Come Home To The Future", serving as a credible promise to a growing international customer base which has bought its products in record number throughout the last year. The company's increasing success powered by a winning combination of design excellence, competitive pricing, and commercial integrity.
Despite challenging market conditions, Ultenic has gone from strength to strength in 2020, acquiring a substantive reputation as a cutting-edge brand that delivers affordable quality in abundance. Proof of its widespread renown is clearly evident in the impressive number of five star reviews received from enthusiastic plaudits across the world, responding to the products' stunning designs and consummate dependability.
Now the company is set to extend its reach again, and put the seal on its success, by bringing to market an even more advanced range of appliances that are super-smart, incredibly stylish, and seriously practical; all powered by cutting-edge technology that has an intuitive grasp of modern lifestyles, and which can respond to a household's ever-changing needs with great precision and flair. As a result, consumers can look forward to more quality leisure time – and a cleaner, healthier home environment – at the end of the working day.
Visit https://www.ultenic.com/ for more information. Full Amazon store here