Proscenic Introduces its M6 PRO and 850T Alexa and Google Home Compatible Robot Vacuum Cleaners with Mopping Capabilities
London 14th December 2020: Smart home appliance manufacturer Proscenic, with a history of making components for Panasonic, Hitachi, Zojirushi, and Philips, today announces the availability of its new M6 Pro Wi-Fi connected and 850T robot vacuums with mopping capabilities and multiple suction modes. Both devices are compatible with Google Home and Alexa with the M6 Pro available in the USA only fromAmazon.com for $369 and the Proscenic website for $429 whilst the 850T is available on Amazon UK for £229, Amazon.com for $239 and the Proscenic website for $259.
Proscenic 850T (Available in UK and U.S.)
The 850T Robot vacuum uses the IPNAS 2.0 intelligent cleaning system, working in programmed patterns that eventually reaches every area that it can access for an efficient and effective clean. Equipped with high quality brushless motor with 3000 PA suction, the 850T effortlessly collects dust, pet hairs and dirt.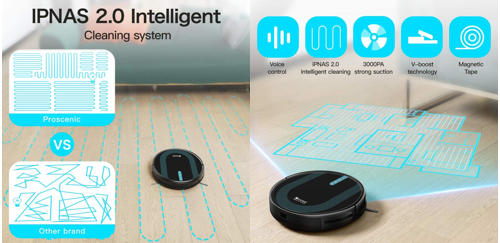 Three levels of suction are available (low, medium and high) depending on the level of clean required and the 850T will additionally automatically increase suction power when carpet is detected with its large wheels rolling over carpets easily as well as door ledges. Thanks to its low profile design of just 2.8 inches, the vacuum is even able to access underneath furniture and hard-to-reach corners.
The 850T can be controlled using an included remote control, the Proscenic Home APP or via Alexa and Google Home using voice command. The App allows users to monitor the cleaning path, schedule the cleaning plan, adjust suction level or change the cleaning mode.
Users can mop and vacuum at the same time thanks to the 850T's electronically controlled 2-in-1 water tank and dustbin. The device works at a low noise level of less than 60 dB with four different cleaning modes available – auto, spot, edge and mopping.
Powered by 2600mAh Li-ion battery, the 850T robotic vacuum cleans for up to 120 min per charge, and will automatically go back to the charging base for recharge.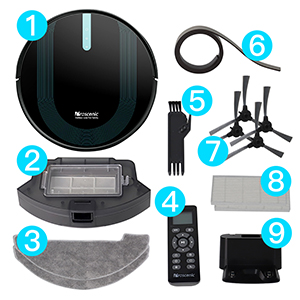 Package Includes:
1) 850T Robot Vacuum Cleaner
2) Water Tank
3) Mopping Cloth*2
4) Remote Control
5) Cleaning Tool
6) Magnetic Strips
7) Side Brush*4
8) HEPA Filter*2
9) Charging Station
Proscenic M6 Pro (Available in U.S. only)
The M6 Pro Robot vacuum uses Lidar navigation with an upgraded laser navigation system that intelligently navigates home by creating a real-time map to plan the best cleaning paths. With 24 sensors on the M6 Pro it is able to easily and efficiently handle complex environments.

The device offers 3 cleaning modes vacuum, Y-shaped mopping, vacuuming and mopping at the same time. The powerful turbine maximises the suction power up to 2600Pa with silent standard and maximum options, capable of removing all types of dirt. The Y Mopping uses an effective Y-shaped cleaning path, enabling a triple-pass mopping action to clean everyday dirt and grime. The advanced electric water tank and programmed water outlet system allows the M6 Pro to clean large surfaces whilst distributing water evenly through the mop.
The Proscenic Home App enables users to switch between cleaning modes, schedule cleaning times or room specific cleaning and create no-go zones as well as being able to set specific zones to clean. The iRoom Cleaning System allows users to divide a house map into multiple regions where specific rooms can be selected to be cleaned at the desired scheduled times. Up to 5 maps can be saved in the robots memory, which makes it load quicker than the maps saved within in the APP. Compatible with Alexa & Google Home, the M6 Pro can also be controlled via voice control using the skill name 'ProscenicRobot.'
The M6 Pro includes a 3200mAh Li-ion battery for up to 110 minutes continuously cleaning. When the battery level is low, the vacuum will return to the charger automatically and once the charging process is complete, it will return to the last cleaning position to continue cleaning.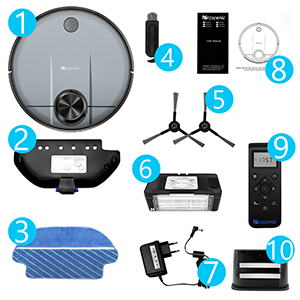 Package includes:
1) M6 PRO Robot Vacuum
2) Cloth Mop Holder
3) Cloth Mop
4) Wipe holder
5) Side brushes * 2
6) 2-in-1 Dust Box and Water Tank
7) AC Power adaptor
8) Manual
9) Remote Control
10) Charging station
Availability
The M6 Pro available in the U.S. fromAmazon.com for $369 and the Proscenicwebsite for $429
The 850T is available on Amazon UK for £229, Amazon.com for $239 and the Proscenic website for $259.
High res imagery of the 850T is available here and the M6 Pro here
About Proscenic:
Combined with "prosperous" and "scenic", PROSCENIC is symbolizing the future of intelligent life. With smart home appliances, you can enjoy the time at home. Founded in 1998, PROSCENIC team is a comprehensive home appliance manufacturer integrating R&D, manufacturing, and sales. In the beginning, PROSCENIC mainly serves Japanese home appliance brands, such as Panasonic, Hitachi, Zojirushi, and Philips (focuses on OEM/ODM integration business of smart home appliances). Now, PROSCENIC has invested to develop more than 20 products including robot vacuum cleaner, cordless vacuum cleaner, air fryer, humidifier, water flosser, and so on.
Deeply immersed in the home cleaning product, PROSCENIC has built its brand reputation in the field of smart home products. In 2013, the brand has been rapidly expanded to Japan, Europe. From 2016 to 2019, the company established branches in Japan, Germany, France, to build a solid foundation for the brand's localized marketing and after-sales service. Products are available in more than 60 countries and districts around the world, which provide intelligent cleaning service for thousands of families and gain the approval of them.
Visit the Proscenic website for more information