AndaSeat launches the Navi Edition Gaming Chair
LONDON, 5th October, 2021 – World leading gaming chair brand, AndaSeat, who previously manufactured race car seats and partnered with prestigious brands in the sports and e-sports field, today announces the availability of its Navi Edition gaming chair, an exclusive e-sport chair, co-designed by e-sport Team Natus Vincere and AndaSeat. This e-sport gaming chair is currently available on pre-order (Delivery in November) in Black and Yellow for $499.99/€429.99/£369.99 from the Anda Seat Website with a time limited 'early bird' 10% discount currently available.
Natus Vincere (Na'Vi), a multi-gaming e-sports organisation based in Ukraine, has won multiple tournaments in Counter Strike and more games, and become one of the most popular and fastest growing esports team in the world which includes team member Oleksandr "s1mple" Kostyliev, who recently claimed the Most Valuable Player award in NA`VI's recent triumph at DreamHack Masters Spring 2021.
In homage to this remarkable team, the AndaSeat NAVI edition gaming chair is upgraded with top-end ergonomic design, patent-pending Re-DenseAD+ Moulded Foam, along with exclusive NAVI elements, this new chair is perfect for long periods of sitting for any e-sports fans who prefer a healthier gaming style.
The new chairs, based on the Dark Demon series, have been designed in NAVI's very own classic black and yellow color. The bright yellow symbolizes stars, while the black silent darkness brings out the romance of a night sky. For ultimate comfort, the chairs have been designed ergonomically to contour to the shape of body with patent-pending Re-DenseAD+ Moulded Foam, which is of upgraded density and enhanced longevity. The NAVI edition will provide strong support for the spine during long, hard gaming sessions and its two-layered foam endures over 100,000 use cycles without losing its shape and the backrest moves from 90° to 160°.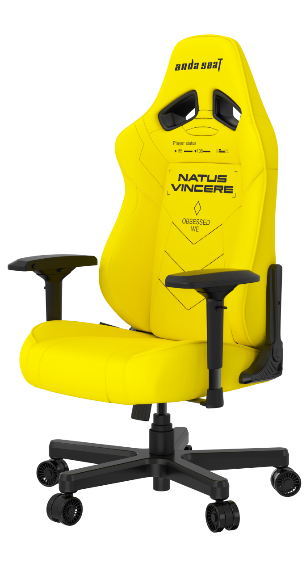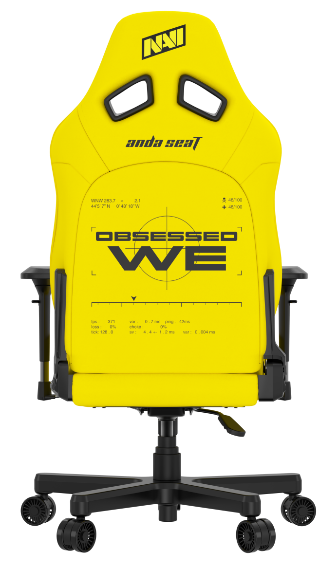 To further help maintain posture, and take the burden off the neck and lower back muscles, there are 2 adjustable pillows, a lumbar pillow and head pillow to prevent slouching, ensuring ultimate comfort during long hours. The chairs are upholstered with patent pending DuraXtraAD+ Leather, which is a must-have for top-end AndaSeat chairs, featuring smooth touch, scratch resistance and stain resistance. With the same materials as used in the racing car chairs previously built by AndaSeat, DuraXtraAD+ Leather is much stronger and ensures the chairs shape lasts longer, while presenting a sophisticated texture.
Like AndaSeat's other chairs, the company is so confident of the quality of its products that a lifetime warranty is provided for its TitanSteelAD+ Framework. This rugged, powder-coated 22mm diameter steel frame is integrated and cut with no bends, which ensures a lifetime of stability and sturdiness. 4D armrests also take the strain out of the forearms, elbows and arms, whilst the 5-star aluminium base with large 60mm wheels to allow for an extremely smooth roll. The seamless seat height adjustment is equipped by AndaSeat's BIFMA-certified heavy-duty class 4 gas lift makes it easy to safely adjust this gaming chair for people of any physique.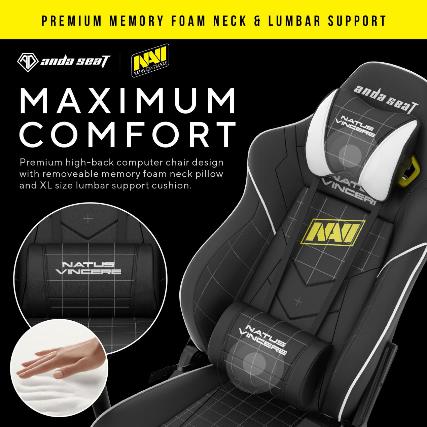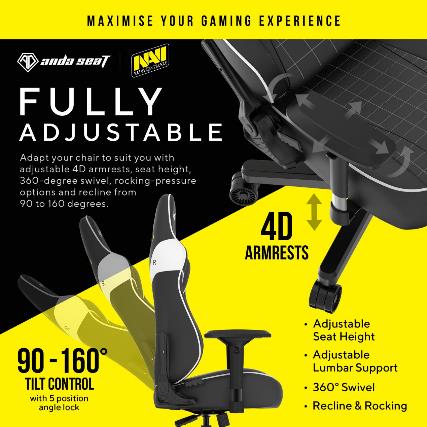 The Navi Edition gaming Chair is pre-order available on AndaSeat website with delivery expected in November.
Buy at the early bird 10% off discount now.
US Site for $499.99 Early Bird Buy Discount Price $449.99
UK Site for £369.99 Early Bird Buy Discount Price £332.99
EU Site for €429.99 Early Bird Buy Discount Price €386.99
Product Highlights
DuraXtraAD+Leather
Re-DenseAD+ Moulded Foam(60kg/m³)
SyncTiltAD+ 90-160°Reclining Backrest
Luxurious Lumbar Pillow & Head Pillow
4-Dimensional Armrests
60mm Smooth & Quiet PU Casters
TitanSteelAD+ Framework
Premium Aluminum Base
Class – 4 Gas Lift
RECOMMENDED SIZE
Max 200cm
Loading weight rocking 130kg
Loading weight static 170kg
Affiliate Scheme
AndaSeat also have an affiliate partnership with Sharesale [merchant ID: 99919] where they can offer 6 percent commission on sales from reviews/features. More information is available here
About AndaSeat
Founded in 2007 and with a history of manufacturing racing car seats for BMW and Mercedes Benz, AndaSeat is the exclusive chair sponsor of China national football team and national volleyball team, making AndaSeat an indispensable brand in sport.
As esports has been a growing industry, AndaSeat shifted towards gaming chairs, offering players and video games industry professionals a healthy and comfortable playing experience thanks to their know-how with sports seats. AndaSeat has now become the worlds leading gaming chair supplier.
Anda Seat's range of products are deemed and recognized by professionals of the video game industry, and they the chair of choice for many esports team such as Fnatic, LGD, Navi Esports, Victorious Gaming, Victory Five and OMG. We've also collaborated with EXCEL, Chief, Buriram United Esport, WLGaming Esports, Marvel, Ubisoft and Hasbro etc.
For more info about AndaSeat please visit www.andaseat.com